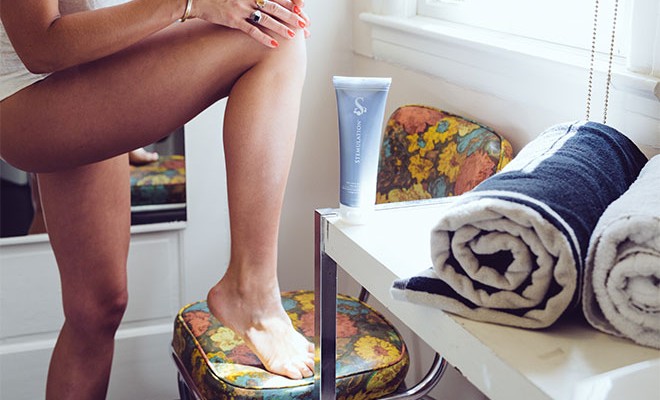 TLC was definitely not talking about face and body scrubs in their hit No Scrubs — yet we can't imagine a skincare routine without this staple! Face and body scrubs exfoliate any dirt and dead cells, leaving you with fresh, touchable skin. Now, who wouldn't want that!?
Here are our top picks that will give you the smoothest epidermis, while making you smell and feel good at the same time.
Stemulation Daily Microderm Scrub Face and Body $34
Want a nice scrub after a hot summer's day? Stemulation is the right scrub for you — it's made with natural ingredients and ready to leave you with vibrant, fresh skin. It's safe for everyday use and the texture isn't too gritty like most scrubs. You can find this uh-mazing product in the FabFitFun Summer Box!
---
Lush Ocean Salt Cleanser Face and Body Scrub $21.95
Take your skin on a vay-k with a nice sea salt treatment. The minerals will help rub away dirt and dead skin, leaving you with glowing and soft skin. The brightly colored scrub is made with crowd favorites like coconut, avocado, and vodka (yep, you read that right!).
---
100% Pure Blood Orange Body Scrub $35
Get back to the basics with a simple scrub that smells uh-mazing and gets the job done at the same time. The fruit oils moisturize and fight age, while the fruit acids brighten for that glow you've always wanted. Use this scrub regularly for smooth, summer-ready skin!
---
Laura Mercier Face Polish $32
Try a different take on a scrub with this creamy version. Get soft skin without feeling deep, harsh grains on your face. This product is great for all skin types and will also leave you even-toned!
---
Urth Scrub $38
Men need to scrub, too! Give this to the guy in your life to promote his skin up-keeping. The scrub is made of microfine rice granules and wheat germ which buff away blackheads, dirt, and oil. It's so easy, he'll want to use it everyday.
---
Kiehl's Rare Earth Deep Pore Daily Cleanser $22.50
Calling all oily skin types! This daily cleanser was made specifically with you in mind — the non-stripping formula, which includes Amazonian white clay particles, was made to purify your skin and eliminate surface toxins.
---
Philosophy Falling in Love Hot Salt Body Scrub $20
Pamper yourself with a scrub that promotes self-love while still giving you healthy, softened skin. This gentle product is perfect for all skin types — even sensitive skin! Invigorate your skin and your senses with this smart buy.
---
Kate Somerville Intensive Exfoliating Treatment $24+
This intensive scrub is definitely worth the buy. Get a "fresh-from-the-clinic" complexion once you incorporate this formula into your routine. It improves the skin's texture and appearance, while brightening without dehydrating.
---
Soap & Glory Breakfast Scrub $15
Jumpstart your day by polishing, smoothing, and moisturizing your skin with this maple-y scrub. Made with ingredients like banana and almond, help keep it simple while getting the job done.
---
J.R. Watkins Coconut Milk & Honey Sugar & Shea Body Scrub $11.59
Grab a 100% natural scrub the next time you're in the market — we love this blend from J.R. Watkins! It smells incredible, leaves your skin super hydrated, and leaves a glow behind. Use this to smooth out your elbows, heels, and other rough skin areas.
xx, The FabFitFun Team