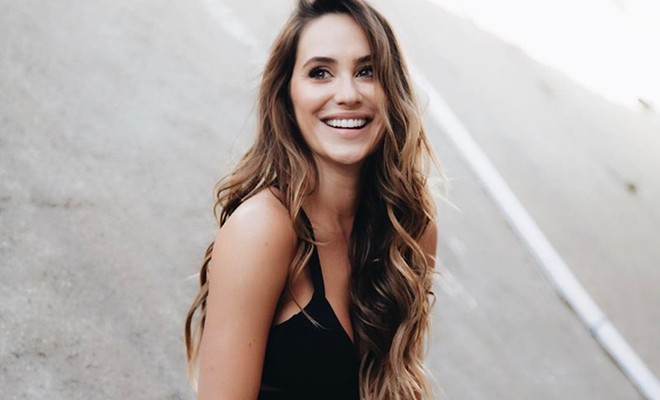 If you're like us, working out can feel like another dreaded chore on your never-ending to-do list…but sometimes, all it takes is a little push from a friend to get you back on your sweat grind.
So if you're ever in need of some fitness or health inspo, look no further than your new workout BFF, Christine Bullock. The fitness guru has been teaching fitness for almost two decades and she has numerous certifications in nutrition — so yes, we'd call her an expert.
She's also the brains behind several popular fitness series including Evolution 20, a 60-day high-performance fitness and nutritional program that helps you reshape your body in record time, and Super Shred, a 45-minute workout squeezed into 20-minutes — perfect for women on-the-go or for those who are looking to get into shape, quickly and efficiently.
And that's exactly why we partnered with Christine to bring you some of her amazing workouts, exclusively to FabFitFun TV.
We had the opportunity to chat with Christine to chat about the rise of fitness in social media, her skin care line Kayo Better Body Care, and more!
What's your favorite workout to do when you're on-the-go (i.e. traveling, etc.)?
I love a mixture of pilates, yoga, and high intensity. I incorporate the basic exercises from pilates and yoga — adding my twist of balance, toning, plyometrics, and high intensity — creating a fast and efficient workout that can be done in a small space without any props. It tones trouble spots, sculpts long lean muscles, and blast calories quick, so I can spend more time accomplishing my business or vacationing with my family.
How do you encourage yourself to workout when you just don't feel like it?
I constantly mix up my workouts to avoid boredom. I tune in to what my body needs. There are days it needs the outdoors, so I go on a long beautiful California hike. There are days I need a quick and efficient workout, so I hit the gym and do my own thing. There are days when I need to rejuvenate my muscles so I head to pilates and yoga. I always end up feeling better afterward when I ask my body what it needs first.
Any favorite workouts?
I love creating my own workouts using typical old gym equipment in new and innovative ways. I've been a ballerina since I was three, dancing three to seven days a week, [and] I still dance. Over the past decade, I took on boxing, which I love, because the movement is so fluid, and feels like dancing, but has a much greater impact on cardiovascular and upper body strength.
Do you have any motivational quote(s) you like to live by?
"Success isn't a result of spontaneous combustion. You must set yourself on fire." – Arnold H. Glasow
"Be kind whenever possible. It is always possible." – Dalai Lama
What's your favorite part about helping people get in shape?
It's thrilling and personally rewarding to assist people in discovering their inner strength and confidence through fitness breakthroughs. This transfers to all other areas of their lives. I love supporting people with their life mission and health will always be the foundation.
Is there one particular client success story that makes you smile?
I love hearing individual success stories from clients all over the world every day. It's the small changes and the happiness that my clients share as opposed to the big before and after pictures. As a pre and post natal specialist, I prepare women for delivery as well as post-natal recovery. Any stories dealing with smoother and safer deliveries, and speedy strong recovery is music to my ears because it has a ripple effect on the entire family.
Do you have any advice for women who are looking to start their own business?
Team up with other strong, smart, creative women who support your growth and your vision. I could not have created my businesses without partnering with Carrington as my business partner who is the yin to my yang and works just as tirelessly as I do daily. I've also hired almost all women to support my business in areas of their expertise. The women I work with are now my closest friends, and I completely trust their opinion with all things related to my personal and professional growth.
How do you think workouts are changing in the digital realm and with the boom of social media?
I think the social boom is wonderful and scary in terms of health (and everything else). On the positive side, world-class trainers and their workouts are at the press of a button. There are creative, inspirational workouts that you can watch under one minute on Instagram and then repeat at the gym. However, there are so many more unqualified professionals "teaching" dangerous workouts and giving bad nutritional advice. It can be confusing. My one tip is to learn from people that have the specific qualifications in their fields and experience, not the next social media star.
What are some of your must-have beauty products for pre or post workout?
Before my workout, I can't live without Kayo Better Body Care's Concentrated Firming Serum, which I apply before workouts for increased circulation and detoxification. I love the tingling feeling it gives that makes me feel even more invigorated during workouts. I make sure to have a baseball cap, a pony tail holder, and gear from Carbon 38 or Lorna Jane to get the most of my workout. Post workout, I wash all the dirt off with Dermalogica PreCleanse Face Wash. I have used Oscar Blondi Dry Shampoo for almost a decade. It's the best at absorbing oil and making the hair feel fresh. I apply a quick coat of Kayo's Vitamin Boost on my face and the Body Beautiful Crème all over my body and face for skin as strong as I feel post workout!
Check out Christine's YouTube channel for quick access to amazing workouts and nutritional advice.
xx, The FabFitFun Team