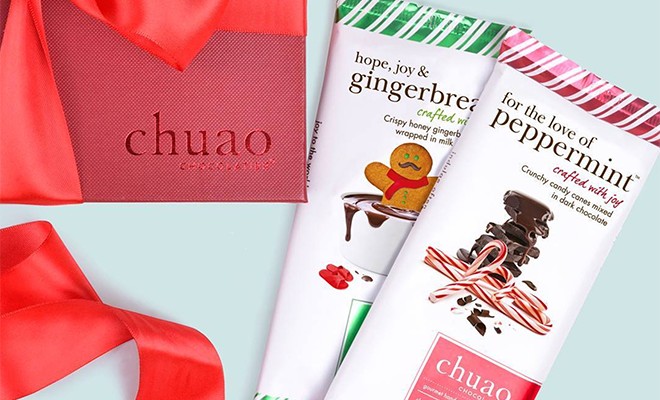 @chuaochocolatier
Shopping for friends can be tiresome, expensive, and downright confusing. Instead of trying to figure out what size shoe they wear or if they're even going to like the perfume you picked out, guarantee your best gift possible with a chocolatey treat.
From individual bars to a tin of chocolate covered pretzels, your pals will be extra thankful to have you in their lives. Bon appetit!
Haute Chocolate Brooklyn Pandora's Box $40
Opening Pandora's box would usually have terrible consequences, but not this time! Let your friends indulge in some of the greatest chocolate around, which celebrates women as the vixens they are. These five flavors are spread throughout 18 bites — perfect for your next wine and movie night!
---
Louis Sherry Jewel Box Chocolate Tin Kelly Green $8.50
You won't find jewelry inside this jewel box — just two incredible chocolates that are begging to be put under the tree. Bring this as your next hostess gift, and you just might be lucky enough to snag the other bite. We call dibs on the Sea Salt Caramel!
---
The Super Elixir Nourishing Protein $59
While this might not be your traditional box of chocolates, we still think this gift is pretty delectable. You'll maintain your blood sugar levels while boosting your metabolism and getting all the fiber and protein you need, all while indulging in a glass of chocolate milk.
---
Droga Chocolates Peppermint Peppies $20
We'd give up our spots on the "nice" list for a box of these (and that's saying a lot). Give the taste of the holidays to your pals with this pack of peppermint and dark chocolate treats. They're the perfect amount of sweet to tide your sweet tooth over!
---
funkychunky Chocolate Pretzels Gift Tin $49
32 ounces of chocolate pretzelz come in this adorable tin. Bring it over to your next holiday party, and prepare to indulge your senses in flavors from nutty to salty. Don't forget about the caramel that laces each pretzel and the three different types of chocolate you get to test.
---
Chuao Chocolatiers Hope, Joy & Gingerbread Bar $6
Gift the bar that screams Christmas, and get one for yourself because you haven't lived until you've tried one of these bars. Chef Michael Antonorsi created the magical chocolate that he describes as, "Crispy honey gingerbread bits wrapped in milk chocolate." Does it get any better than that?!
---
ZenBunni Chocolate Single Microcosmic Bar $4
Stocking stuffers, anyone? Keep these on hand, as they not only taste great but are also good for you (shocking, we know). They'll give you a boost of energy and are made without dairy, gluten, refined sugar, and soy!
---
Trader Joe's Chili Chocolate Collection $4.99
Pick this pack up while you're grocery shopping this week. The chili flavored milk and dark chocolates will bring the heat to your next movie night. They get progressively hotter as you make your way through the box — survival of the fittest at its best!
xx, The FabFitFun Team