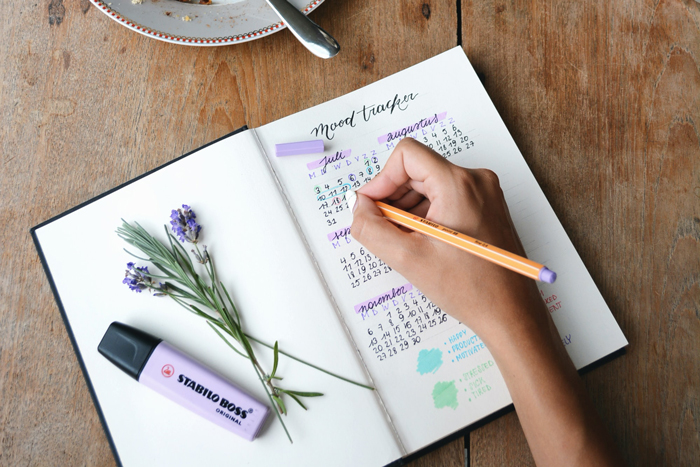 Feature Image by Estée Janssens
Bullet journals have been all the rage these days. They're an aesthetically pleasing way to organize your thoughts and see everything at once to track your consistency in certain tasks or to find any patterns, whether it comes to working out or your mood during the weeks.
Another great benefit of bullet journaling is that you can fully customize the design and content to track what you want, but if you're looking for some inspiration, here are a few of our favorite formats to get you started.
View this post on Instagram
In a year when it seems like your feelings are all over the place, tracking your mood may be a good idea. Whether you write down a word or draw an emoji, this design can help you track your overall moods for the month.
---
View this post on Instagram
If you can't get enough Netflix, this is the bullet journal for you. There are spaces for you to take notes on your favorite characters or quotes, and track dates or season/episode notes on the side.
---
View this post on Instagram
If you want to form a new habit or improve on an old one, this format is a great way to see your progress. In this setup, each dot stands for a day in the month so it's pretty easy to keep track of everything.
---
View this post on Instagram
Sometimes it's hard to remember what happened yesterday, let alone what happened over the last month. This is a great way to record your achievements, goals, and thoughts so you can look back and see how far you've come.
---
View this post on Instagram
If you're very active on Instagram, or Bookstagram (the bookish side of Instagram), this is a pretty and organized way to keep track of hashtags and challenges. You can even use the same format to write down what photos you need to take.
What are some of your favorite bullet journaling ideas? Let us know in the comments below!
xx, The FabFitFun Team