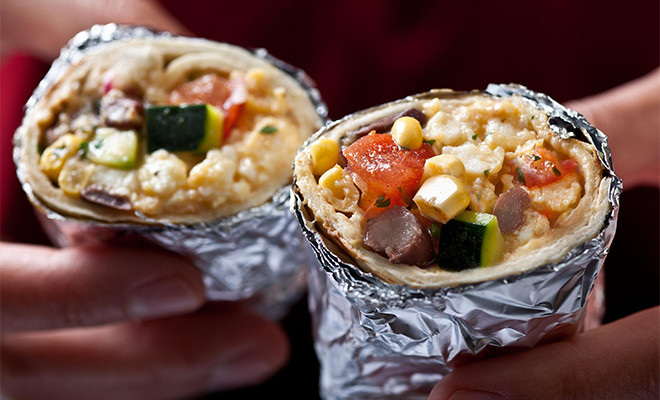 Breakfast burritos might be the best invention…well, ever. You get the taste of your favorite early morning staples like eggs, bacon, and beans, all wrapped up in a warm tortilla with delicious extras thrown in (and who can forget the tater tots?!).
Make breakfast your favorite meal of the day by whipping up one of these savory recipes. They'll change your early morning routine forever. Bon appetit!
Breakfast Burritos with Black Bean Sauce
Wake up and seize the day after having this insanely delicious breakfast burrito. The black bean sauce is a game changer and the multitude of flavors complement each other. You'll want seconds no matter how stuffed you are!
---
Savory Quinoa Breakfast Burrito Bowl
Cut the carbs and go for a breakfast burrito bowl instead. This dish will keep you full until lunch and give you a healthy dose of veggies without the added calories from a tortilla. Make double the recipe to have breakfast ready to go all week long.
---
Sweet Potato, Black Bean & Egg White Breakfast Burritos
If you want a healthier version of the breakfast burrito, try this sweet potato recipe. This meal is creamy, delicious, and protein-packed — make a batch and freeze for on-the-go nourishment you can rely on. Add hot sauce for a little extra kick to wake you up!
---
Easy Breakfast Burrito
The name says it all: This easy breakfast burrito will be your go-to when you're too tired to keep your eyes open in the morning. This recipe stays true to a basic burrito, while still satisfying your stomach with hearty ingredients.
---
Southwest Tofu Scramble
Get all the flavors of a breakfast burrito while staying true to your vegan self. This tofu scramble is filled with protein, loaded with veggies, and extremely tasty. You won't even know that it's tofu! Add a tortilla if you want it in classic burrito form or skip the carbs and go without.
---
Vegetarian Breakfast Burritos
You don't need meat to have a hearty burrito. This vegetarian version has flavors upon flavors to satisfy your tastebuds. We especially love the queso fresco paired with the tomatillo salsa.
---
Smoked Salmon Breakfast Burrito
Get your dose of omega-3 fatty acids with this nutrient-packed breakfast! This smoked salmon burrito is restaurant worthy — you'll feel healthier than ever after you finish this delicious meal! We love how the peppers and chives taste with the smoked salmon.
---
Mushroom, Bacon, and Cheddar Breakfast Burrito
Give yourself the breakfast you deserve with this meaty meal. We love the combination of mushrooms and bacon, topped off with delicious cheddar. Make these in bulk for an easy grab-and-go breakfast for your family and freeze the extras. You'll thank us later.
---
Healthy Breakfast Burritos
These freezer-friendly burritos are great for anyone looking to start their day on a healthier note (this recipe has tons of fiber and protein!). We love the spinach, onion, and sausage combination. It's just enough flavor to get your day going without the food coma.
xx, The FabFitFun Team