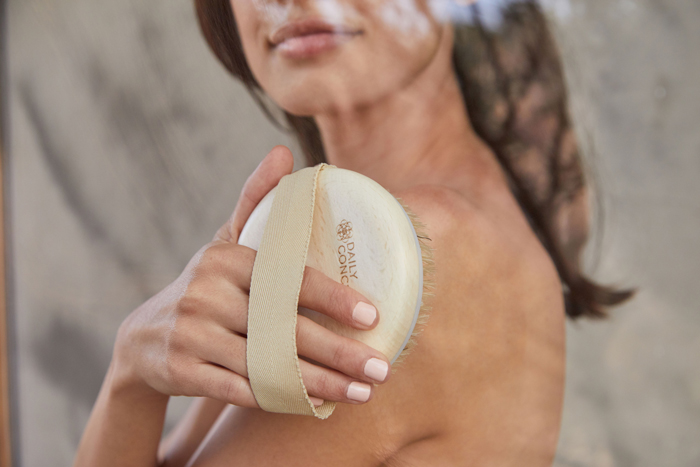 SPRING 2019 BOX PARTNER
On a scale of 1 to 10, rate your skin care routine. Now tell us – did you only think about your face? But what about the rest of your body?
Skin is the largest organ of the human body, so it's vital to care for our skin from head to toe. Here are four steps to incorporate into your body care routine.
Exfoliate
While many wouldn't dream of skipping exfoliation for their face, the body can often be forgotten. Use the Manna Kadar Champagne Body Scrub to remove dirt and buildup while leaving the skin polished, hydrated, and refreshed. Simply spread a thin layer over your skin in the shower and massage in a circular motion across arms and legs, then rinse off.
Hydrate
We all know the benefits of drinking water daily, but we get it – it's hard to remind yourself to take sips throughout the day. Toss your single-use plastic water bottle and fill up your S'ip by S'well water bottle instead. It's insulated to ensure your drink stays hot or cold. Plus, it's so cute (and won't cramp your style).
Moisturize
Your body from the neck down is just as prone to dryness, wrinkles, and aging. Use an ultra-moisturizing body butter like the Lavido Aromatic Body Lotion in Mandarin, Orange & Bergamot. It's rich yet lightweight and will restore skin with organic essential oils, leaving it buttery soft.
Stimulate
Your skin is the last organ to receive nutrients, but the first to show signs of imbalance or deficiency. Stimulate circulation and eliminate layers of dead skin by dry brushing with the Daily Concepts Daily Detox Brush You can use it dry or wet, scrub, and repeat to improve the overall appearance of skin.
xx, The FabFitFun Team
Psst! Have you signed up for FabFitFun yet? Don't miss out on $200+ in amazing beauty, fitness, fashion, and lifestyle products, access to exclusive fitness and cooking content on FabFitFunTV, members-only sales, and more. Join today!
To get the most out of your box products, make sure to check out the Insider page.