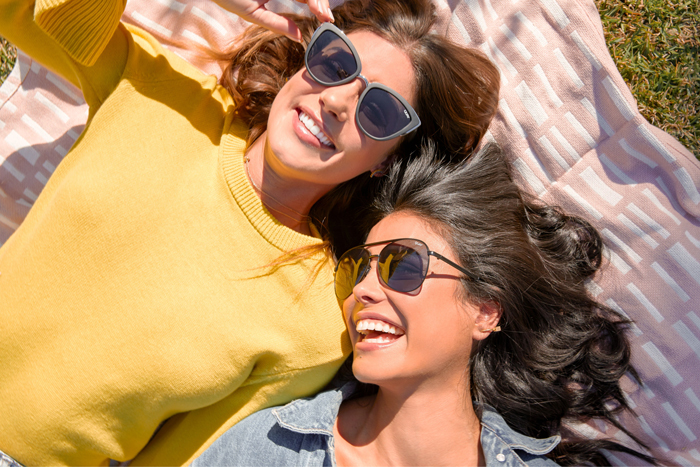 SPRING 2019 BOX PARTNER
Ah, nothing feels better than finding the one – the one perfect pair of sunglasses, that is. So before you go on the hunt, make sure you do your research because sometimes the best looking sunnies aren't necessarily the best for your specific face shape.
Not sure where to start? We checked in with the experts at QUAY AUSTRALIA to guide you in finding the perfect pair of sunnies.
Square
This face shape has a lot of sharp angles, especially around the jawline, so it's best to pick round sunglasses to contrast those edges. The team from QUAY AUSTRALIA advises to "keep an eye out for frames that extend past the widest part of the face to round out the sharpness of the sides."
Heart
What's not to love about this face shape? It gets sharper and narrower towards the chin, so pick frames that follow that shape, like the QUAY AUSTRALIA Vivienne. QUAY says "aviators are wider on top and taper at the bottom," so it "[follows] rather than [contrasts the] face."
Oval
Consider this shape the sunglasses jackpot because just about any frame will work. According to our QUAY experts, "oval-faced lovelies can get wild with bold and dramatic silhouettes, such as old-school cat-eye and circle shades," like the QUAY AUSTRALIA My Girl.
Round
Round faces are equal in length and width, so QUAY recommends sunnies that are "sharp and angular to contrast with soft features." Your face is round so avoid frames that accentuate that roundness and go for something with more angles.
xx, The FabFitFun Team
Psst! Have you signed up for FabFitFun yet? Don't miss out on $200+ in amazing beauty, fitness, fashion, and lifestyle products, access to exclusive fitness and cooking content on FabFitFunTV, members-only sales, and more. Join today!
To get the most out of your box products, make sure to check out the Insider page.