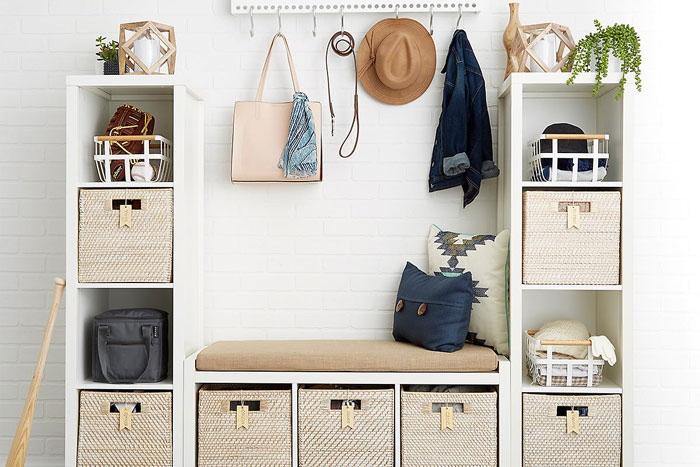 Feature Image by The Container Store
Never underestimate the power of a clean, organized home. Not only is the physical space clutter-free, an organized space also has the ability to keep your mind clear too.
Stay organized and stress-free with 10 storage items that make consolidating items in your home as simple as 1-2-3. #yourewelcome
If your living room constantly has jackets thrown onto the couch, add this coat rack to your space. It'll help you break the habit of leaving your outerwear all over the place.
---
Labeled boxes may seem like an obvious pick, but you'd be surprised at just how few you probably have lying around your house. We recommend picking up two or three of these speckled mint boxes to store papers,
---
If you're running tight on cabinet space in your kitchen, this shelving unit might be the solution. It's also perfect for those bulkier kitchen products that you're not sure how to store.
---
Rather than mindlessly storing your clothes on the top shelf of your closet, use these dividers to create a system and separate your sweaters from your jeans.
---
This sleek shoe compartment hides your shoes and keeps you from tripping over them in your hallway.
---
The best storage item is one that's both aesthetically pleasing and functional. Ensure all of your important mail is in one place with this handy organizer.
---
Utilize all the space you have including under your bed. We like storing clothes that are out-of-season to keep our closets less packed.
---
This coffee table features a hidden storage area so you can organize your remotes, chargers, magazines, and anything else you like to keep on hand in the living room.
---
Instead of taking up counter space with your wine and liquor bottles, get a chic bar cart that can roam between the kitchen and living room.
---
Store the shoes you wear the most in this entryway storage bench, so there's less clutter next to your door.
xx, The FabFitFun Team