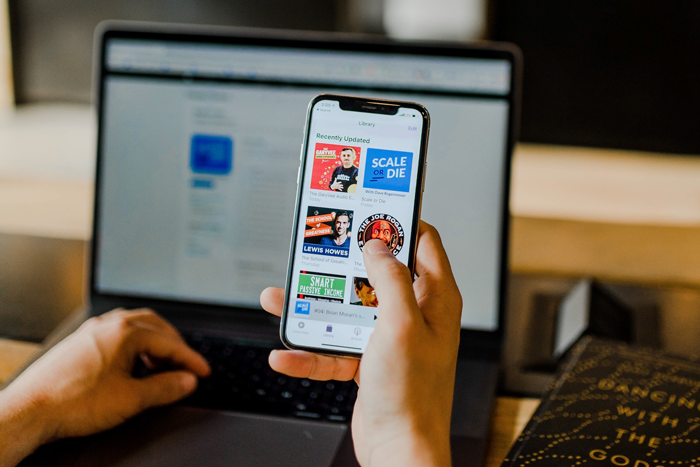 Feature Image by Austin Distel
Podcasts are all the rage right now! Whether you love movie reviews, only watch The Bachelor, or you're into health and fitness, there's a podcast for that. And now that we're spending more time at home and in need of ways to entertain ourselves, check out our recommended podcasts below in the top categories.
Pop Culture
"The Morning Toast" is a pop culture podcast/live show that is hosted by two NYC sisters and airs five days a week. They give you the fast five stories of the moment and hilariously recap all types of TV shows. It's a must-listen!
---
For fans of The Bachelor and all of its spinoffs, you need to listen to "The Betchelor," a division of the site Betches and also hosted by a former contestant, Derek Peth. They recap every episode, and even in the offseason are chatting about gossip and all the happenings in Bachelor Nation.
---
If you're currently binging a show, new or old, "Binge Mode" has got you covered. Each season, they take you through a different pop culture phenomenon; Star Wars, Game of Thrones, Harry Potter – the list goes on! It's the perfect way to learn more about your favorite fandom or get into a new one.
---
True Crime
True crime is a genre all on its own and really started the podcast gold rush with the launch of "Serial" a few years ago. Now, there's a podcast for every crime but Dr. Death is one that took the world by storm. It follows a reporter who is investigating and re-telling the story of a doctor who conned his way into hospitals and killed one too many patients. It's a wild ride and a must-listen.
---
"Generation Why" covers a different crime every week. Hosts Aaron and Brian discuss a crime that crime is solved, sometimes it's not; sometimes the crime is very well known and others might be smaller cases you haven't heard about.
---
A podcast that launched a television mini-series with Eric Bana as Dirty John himself. This is a podcast that covers one crime of a con-man and his murderous, controlling ways. He worms his way into an unsuspecting family and wreaks havoc.
---
Career and Business
Career and business are two huge categories when it comes to podcasts. They are incredibly informative, especially if the guest or host is someone who you admire and look up to. "Second Life" is hosted by WhoWhatWear co-founder, Hillary Kerr, where she interviews women who have had a "second life" in their career. She's interviewed so many talented, successful women like Jennifer Lopez, Cindy Crawford, and Lauren Conrad.
---
Drybar founder, Alli Webb and her brother Michael raise the bar with their funny, informative, and intense podcast skills. Just like Kerr, they interview business owners but also offer their own advice on starting and running a business while dealing with life at the same time.
---
When Twitter first launched in 2009, DKNY was the first brand to really take hold of the platform thanks to Aliza Licht as DKNY PR Girl. Now Licht has her own podcast where she interviews the best of the best when it comes to social media and all types of businesses. "Leave Your Mark" has the same name as her best-selling social media career handbook and is really, now Licht's brand. It's must-listen if you love the world of fashion, social media, or just need some hardcore career advice.
---
Lifestyle
Lifestyle podcasts kind of encompass everything that doesn't have a niche. "Be There in Five," hosted by Kate Kennedy, is exactly that. She discusses pop culture, nostalgia, current events (in a hilarious way) and will host the occasional interview. If you wanted to, you can classify this is as a comedy lifestyle podcast because Kennedy is hilarious and a joy to listen to.
---
A podcast so popular they got their own show on E!, these three ladies discuss everything and anything in a hilarious yet relatable way.
---

"Oprah's SuperSoul Conversations"
SuperSoul Conversations connects Oprah with a celebrity or someone of stature while they discuss the bigger things in life, and figure out how to maintain a clear and stable journey. It's captivating, inspirational, and something we could all listen to.
---
News & Politics
From the makers of the daily newsletter, The Skimm, this podcast brings you the news you need to know from the day. It's informative and straight to the point; the podcasts are no more than 20 minutes long, so you're getting the most important facts.
---
"Pod Save America" is a weekly podcast where the hosts are joined by journalists, politicians, and activists to discuss the happenings in the political realm and help people understand the news as it relates to them.
---
A news podcast put out by The New York Times, the episodes are put out daily and cover a different topic, in a short amount of time. It gives you snippets of the most important news in a straightforward way.
xx, The FabFitFun Team