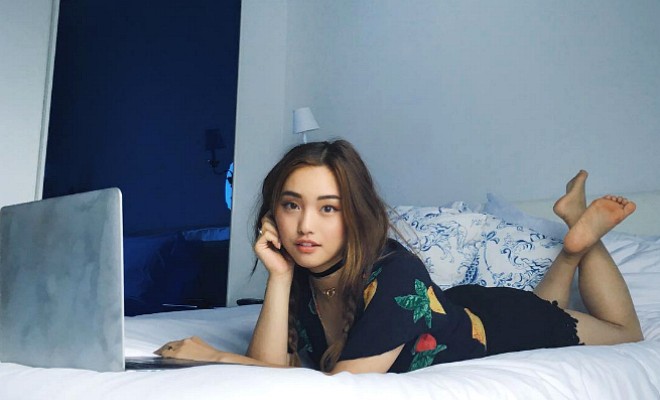 Clothes Encounters
Some days you text, call, and Snap your bestie nonstop… and still find yourself wishing they were right there with you. Well, these five vloggers are best friends that you can hang out with anytime!
Watching their videos will make you feel like you're catching up with a gal pal over an eggs Benedict and mimosa brunch — even when you're actually brushing your teeth in the morning with your phone by the sink.
So hit play and join the fun! You'll be learning, laughing, and feeling that bond with these YouTubers in no time.

Lily Pebbles
London-based Lily's schedule is air-tight — she uploads videos on Wednesdays and Sundays at 6:30 P.M. Heat up some dinner and scroll through  her playlists to listen to her chat about monthly favorites, learn how to bullet journal, and even get tips on creating your own vlogs!
---

Megan Batoon
Dancer, pun-master, DIY-er, and amateur chef, Megan is the perfect everyday companion. No matter what she's doing in her videos, her infectious humor is guaranteed to brighten your day.
---

Community Channel
Natalie's videos first went viral years ago for its hilariously relatable nature. Her quirky, light-hearted tone in her monologues and sketches will make you feel less alone in your struggles — in everything from keeping to your new year's resolutions to getting a random sneeze attack.
---

Hey Nadine
When you're hit with wanderlust, tune into Nadine's channel and fly across the world with her. She features everything from travel hacks, packing guides, exotic food, and of course, beautiful sights from all around the globe. Bon voyage!
---

Clothes Encounters
Jenn Im is an easy fave of ours for several reasons — she's crazy intelligent, creative, down-to-earth, hard-working, beautiful, talented, loves her boyfriend, and has the cutest puppy in the world. *Catches breath* And though she seems like Superwoman, her vlogs show us just how human she is, which makes us love her even more.
xx, The FabFitFun Team