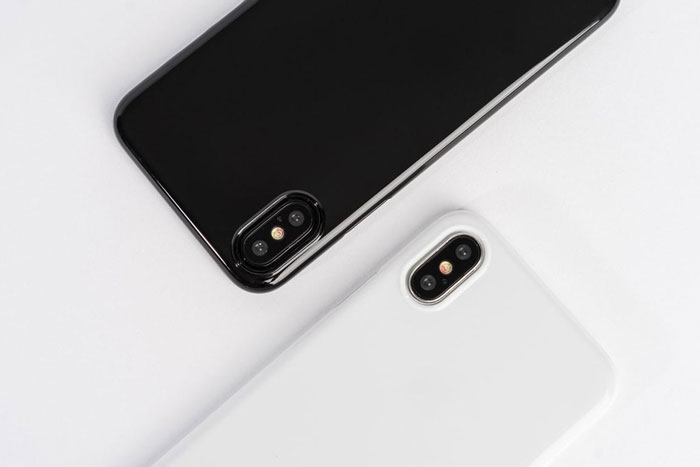 Feature Image by Peel
There are two things you definitely don't want to do with your brand-new iPhone X: refer to it as "X," as opposed to "ten," and accidentally drop it (repairs can be pricey!)
Now that you've got the first part down, we'll help you out with the second. Here are 10 of the best iPhone X cases on the market that are stylish, reliable, and, most importantly, protective.
We love the entire Karat series, but we especially go gaga over this gold one. With specks of gold all across the back, it's a total showstopper — and its "military-style protection" proves it's so much more than a pretty face.
---
With its facial recognition and wireless charging, the iPhone X is definitely futuristic, so get a case that is, too. This holographic design from Milky Way is equal parts tech-savvy and chic. Plus, those cute lip shades look real enough to wear!
---
For solid protection without extra frills, it doesn't get much better than Peel. The company believes that minimalism is beautiful, so they avoid extra branding in order to let the phone shine on its own.
---
Your new phone is basically a work of art, so treat it like the masterpiece it is with this gorgeous Uniqfind case. The eye-catching design is printed with laser technology, making the marble look life-like and Instagram-ready.
---
Perfect for the woman on-the-go, this case doubles as a wallet so you can store your ID, credit card, and more. Besides, how could you not love the sweet rose color?
---
These cases are individually handcrafted by artisans in the Midwest. Each case comes with an ounce of leather balm to enhance the patina process (aka for a unique, high-quality finish).
---
How many times have you dropped your phone? The team behind Tech21 test dropped theirs 20 times to make sure the case is crack-proof. We particularly like the Evo Wallet, which is thin enough while still offering two card slots.
---
A little glitter never hurt anybody. This gorgeous rose quartz case features a flexible interior with a rigid bumper frame to ensure your phone is protected at every drop. There's even a built-in metal kickstand to set your phone down for a hands-free viewing experience.
---
Leave it to Apple to make a chic cover for their latest creation. Made with European leather and fitted perfectly to the case, it's like the sleek riding boots of phone cases. And when you purchase the ProductRED version, you're helping fight AIDS!
---
Speck is a go-to case for many. It's been tested to withstand a 10-foot drop and comes with a lifetime warranty so your phone is always covered. Not only does the unique grip prevent accidental slips, but the contrasting colors also look pretty neat if you ask us.
xx, The FabFitFun Team