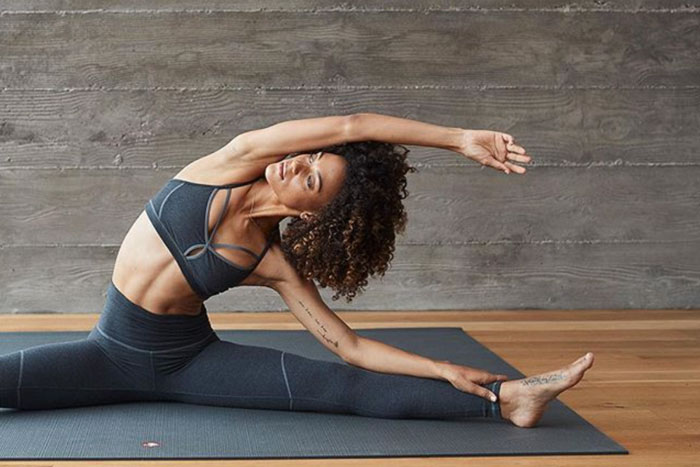 Feature Image by @mandukayoga
The ethical clothing movement has been making waves in the fashion world — and this includes the athleisure industry, too!
So what exactly makes ethical or fair trade clothing different from its fast fashion counterparts? Well, for starters, the production factories operate in accordance with the Fair Labor Association Workplace Code of Conduct, which means you can trace every step of the supply chain knowing the brand followed fair trade practices, production ethics, and cruelty-free methods. Basically, you can wear your clothing worry-free.
So break a sweat and feel good about the workout gear you're wearing this year. Here are five ethical activewear brands you can proudly rock.
This activewear line is on a mission to help you feel good in the gym while knowing you're saving the planet. The clothing is made by a design and production team of three (yes, three!), making it easy to follow the supply chain to check for fair practices. You'll be pleased to know that the hourly seamstress often takes tea breaks and plays with the office cat. Pretty neat, right?
---
Talk about quality yoga pants. SATVA Living specializes in organic fabric, and bans the use of toxic chemicals such as bleaches, waxes, sulfur, and heavy metals. The organic clothing production methods create humane work environments while providing economic prosperity for workers. They also donate a portion of proceeds to local communities and agricultural programs.
---
This activewear line believes in honoring the yoga practice and the planet by providing socially-conscious products with purpose. From towels to props, Maduka strives to minimize environmental waste and holds true to its founding principles of conservancy and transparency.
---
What started out as a few eco-friendly graphic tees in 2006 has turned into a full lifestyle brand of responsibly-produced fashion that supports sustainable initiatives. From jackets and leggings to tanks and sports bras, all of their clothing is manufactured in Kenya and India under certified fair trade conditions.
---
Featuring everything from yoga tops and bottoms to rompers and accessories, every piece is made from non-toxic water-based inks, low impact dyes, and locally-sourced materials. Feel comfy and confident in their fair trade, organic cotton, knowing that the local workers are receiving the wages they deserve.
xx, The FabFitFun Team