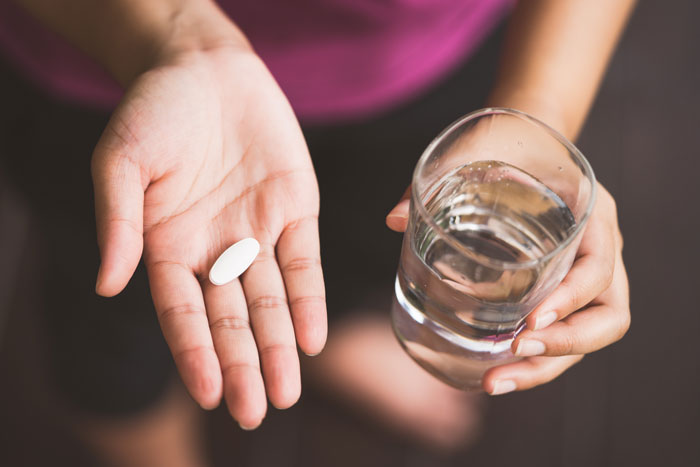 If you find yourself constantly catching your colleague's cold, feeling sluggish, or are experiencing digestive issues, a lack of essential nutrients could be to blame.
While most of the nutrients you intake should come directly from your diet, it often helps to supplement with vitamins — multivitamins to be exact (because who wants to swallow three to four pills?!). Here are our top five multivitamin brands for women.
Care/of
Anyone looking to target specific concerns or are on a special diet should consider Care/of's vitamins — whether you're a vegan runner, have a history of acne, or are looking to boost your immunity. Simply enter your name, personal history, and health goals. Care/of then formulates a personalized prescription uniquely tailored to your needs, and ships a monthly supply directly to your door. The best part? The brand is refreshingly open about their methodology — they stock a combination of traditional herbs, emerging ingredients in the field, and scientifically-backed goods, and tactfully combine them to create your personal prescription.
Women's One A Day
There's a reason the Women's One A Day is such a pharmacy staple (they actually work!). Their formula includes iron to stave off anemia, folic acid to repair and produce red blood cells, vitamin D to prevent osteoporosis, and more. It's a quick, easy fix that's accessible in practically every pharmacy.
The Honest Company
It's no secret we love The Honest Company, and we trust their judgment when it comes to all things baby-related. Their whole food based prenatal supplement is expertly concocted to provide you and your growing baby with nutrients you might not be getting from food alone. They've got your back during the postnatal period, too — their lactation plus pill is loaded with fenugreek and other goodies to support breast milk production.
myKind Organic Gummies
If you can't stand swallowing pills, opt for these organic gummies. Unlike any cartoon-themed gummies you might see at the store, these sweet pops are free of processed sugars. The blend is specially formulated for women with vitamins like B12 and zinc. Oh, and the gelatin is vegan-friendly, too!
Ritual
When the company's founder Kat Schneider couldn't find a vitamin company she trusted, she decided to start one herself. So if you want a mega health boost without all the mumbo jumbo, try the "for women, by women" brand. They've formulated a soy-free, GMO-free, and gluten-free coating that holds a mixture of the nine essential nutrients that women lack the most. Think powerful goodies like magnesium, iron, and Omega-3. Not only that, they have monthly subscriptions that run at a flat rate of $30 a month, which are shipped directly to your door.
xx, The FabFitFun Team