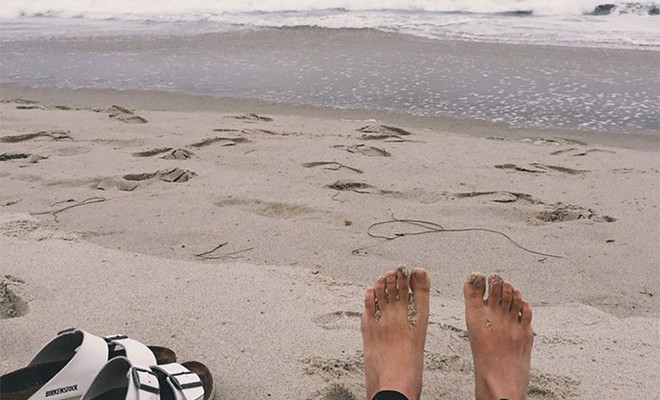 @monichang
Sandpaper feet. It gets the best of us, especially during warm weather when your feet are exposed 24/7. With all the salt water, chlorine, and walking around in the heat, summer can wreak havoc on your tootsies.
How to avoid that, you ask? We recently caught up with Ruth Kallens, owner of Van Court Studio in New York City, to give us a few pointers. Because we all know that unkempt feet can break your entire look.
Maintenance 101
During the summer, getting a pedicure every three weeks will help keep your feet in tip-top shape.
At-Home Pampering
If you can't manage to get a pedicure every three weeks, Ruth suggests  pampering yourself at home. Taking baths are key, as they help hydrate and refresh the skin. You can also use a file (make sure to keep it clean, though!) to get rid of rough skin. Her favorite is Deborah Lippmann's Foot Fetish Dual-Sided Foot File.
"Add Dr. Bronner's Castile Soap, Himalayan salt, and doTERRA essential oils to the bath to make it a more restorative experience," she says. "Lavender and orange always do the trick."
Cuticle Oil is Key
Walking around with dry, cracked skin is a beauty crime, especially during summertime when your feet are always exposed. "I love cuticle oil for the evenings," she says. "I use Deborah Lippmann's Cuticle Oil then apply Lano Lanolin 101 Ointment Multipurpose Balm. I finish with Tata Harper's Rejuvenating Hand Cream. And repeat not only at night but all through the day.
Lasting Power
Swimming in salt and chlorine water can wreak havoc on your polish job. To ensure it lasts longer, apply a top coat to all nails every other day.
Overnight TLC
A great summertime trick is to apply moisturizer and cuticle oil to your feet and toenails, put on socks, and let the combination work its magic overnight.
xx, The FabFitFun Team