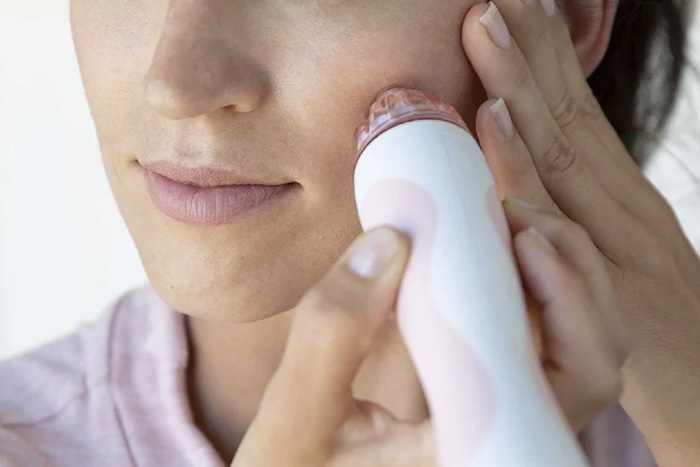 Feature Image by PMD
From skin care mini fridges to micro-needling rollers and now pore vacuums, it's safe to say that beauty gadget innovations have taken a pretty interesting turn in 2019.
Pore vacuums are small contraptions that work to remove any deep-seated gunk lingering beneath your pores including excess oils and dead skin cells, according to board-certified dermatologist Dr. Debra Jaliman.
But how exactly do they work? Dr. Jaliman explains everything you need to know about pore vacuums below.
What is it?
The concept behind pore vacuums is pretty self-explanatory. According to Dr. Jaliman, they're mainly used for extracting blackheads without the pain typically associated with facial tools found at the spa. However, that's not all pore vacuums can do. They also suck out any excess oil lingering in your skin. This can ultimately help brighten your complexion and may even help ward away any potential acne breakouts on the horizon.
How does it work?
While at-home devices can definitely spare your wallet from costly salon treatments, Dr. Jaliman notes it's important to remember that at-home products usually aren't as effective as the actual high-tech pore vacuums found in spas and your dermatologist's office. However, she explains that pairing your tools with the right skin care products can make your experience much more effective. "To get the best results, it's recommended to use your vacuum with products containing salicylic and glycolic acid," says Dr. Jaliman. "Using a steam bath on cleansed skin can also help loosen the blackheads, making it easier for the blackheads to be removed," she adds.
Who should try it?
As pore vacuums continue to become more mainstream, there are tons of product choices popping up on the web. So we decided to take things into our own hands and try out a high-quality pore vacuum ourselves. We tested out the PMD Personal Microderm, which uses calibrated vacuum suction to help trigger the skin's natural healing process. This helps boost collagen and elastin to ultimately help your skin feel firm, fresh, and radiant. Not only did this gadget make a nice replacement for those messy exfoliating scrubs, but it also allowed our skin to soak in our moisturizers and facial oils a lot better than before.
Are there any side effects? 
There are some important don'ts to remember as you use a pore vacuum, such as not using it more than once a week. Overusing the tool can cause unwanted redness for those with sensitive skin. Much like Dr. Jaliman advised, it's important to use the right products when using a pore suction tool. She suggests opting for a non-abrasive salicylic acid product (we love the Glossier Facial Exfoliating Skin Perfector) while you're vacuuming, as it helps break down all those pesky dead skin cells and blackheads.
xx, The FabFitFun Team