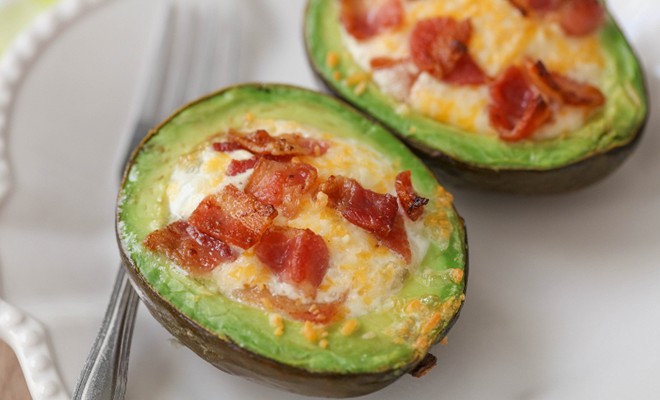 Avocado has continued to be the trend in food — we're definitely not complaining. There's nothing like smearing a deliciously ripe avocado onto a piece of bread. But if you're sick of avocado toast, it's time to come up with different ways to eat (and 'gram) this creamy fruit.
Well, look no further! We found eight delicious recipes that you can make easily at home. Oh, and dare we say, these recipes might taste better than avocado toast.
Crispy Baked Avocado Fries
Healthy fries made with avocado? Sign us up! These babies are covered with breadcrumbs and then baked to perfection.
---
Creamy Avocado And Spinach Pasta
Who doesn't love a big bowl of creamy pasta — especially when it's made with avocado? You'll never want to switch back to regular cream sauce again after trying this avocado pasta dish.
---
Avocado Bacon And Eggs
Breakfast will never be the same again after you try these eggs baked in an avocado and topped with bacon and cheese.
---
Avocado Hummus
Vegetables and hummus make a great snack by themselves. But make yourself a hummus that's avocado flavored and you've got yourself the ultimate afternoon pick-me-up.
---
Avocado Caprese Salad
Avoiding cheese? Replace the mozzarella in a caprese salad with some avocado instead. You'll still get that creamy flavor without any dairy.
---
Vanilla And Honey Avocado Pudding
Instead of making instant pudding, use avocado instead. The creaminess of the fruit mixed with the sweetness of honey and vanilla makes a tasty yet nutritious dessert.
---
Guacamole Deviled Eggs
Who needs mayo when you've got avo? Whether you make these eggs for breakfast, lunch, or dinner, your tastebuds will be thanking you.
---
Tomato Avocado Salad
Salads don't have to be complicated to taste delicious. This fresh salad is made with just tomatoes and avocado, so you can really enjoy the flavor of the fruit without much cooking hassle.
xx, The FabFitFun Team