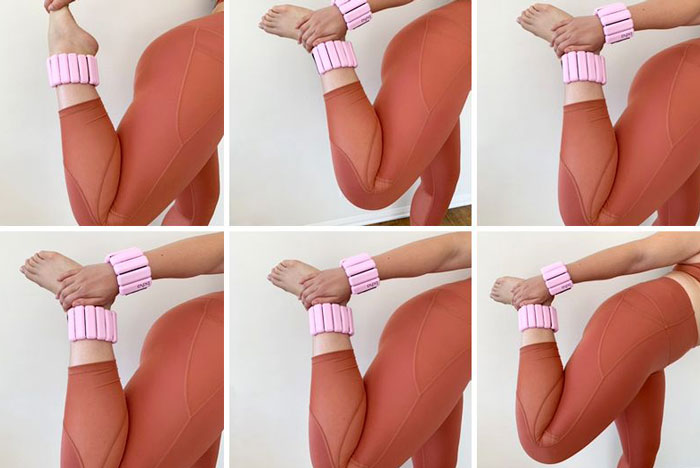 Finding the motivation to get off the couch and on your feet is like playing a game of hide-and-seek. Your motivation is somewhere around the corner and searching for it is almost as exhausting as working out. But, what if you had some sidekicks that made working out…sort of fun?
We'll be the first to admit that we are not always puttin' in work. But with stay-at-home orders making online workouts readily available, all you really need is some at-home equipment to get you inspired.
You can shop these products and more in the Fall Add-Ons sale, which is open to all members on Friday, August 14 at 9 a.m. P.T.  Every season, FabFitFun members can shop over 300 beauty, fashion, fitness, and home goods at up to 70% off — plus Add-Ons ship for free with your box.
If you're not a member, use code HARVEST at checkout for 20% off your first box and to access the members-only sale.

Much like practicing Pilates in a studio, this resistance device will challenge you in more ways than one. You can actively tone your body while the ring works to target your legs and core, all at the same time. Seriously, why would you need bulky equipment taking up space? This bad boy gets the job done and makes working out in the comfort of your home worth it.
---

So, it's not the kind of bar where you can sip on margaritas with your girls but hear us out. It's super easy to assemble and it's challenging (in a good way) for all levels. If you're looking for a way to build strength, gain muscle, tone the body, and master flexibility, this is the only (workout) bar you need.
---

Up your resistance game with a pair of these one pound bangles. These wearable weights have a clean design and fit comfortably on your wrists or ankles to assist you with any at-home or gym workout.
---

We are all about a "no appointment needed" kind of massage. This massager will have you feeling rejuvenated and firm in no time. The portable masseuse features a dual head rolling massager with 18 stones and utilizes a high-frequency sonic vibration that provides deep tissue sensation.
---

Thirsty? We got you. Sore? We got you. This two-in-one water bottle is designed with the athlete in mind. The water bottle serves to keep you hydrated throughout the day and acts as an on-the-go foam roller. Staying hydrated and rubbing out those muscles are the perfect remedies for relieving stress and promoting recovery so you can get back to it the next day.
xx, The FabFitFun Team