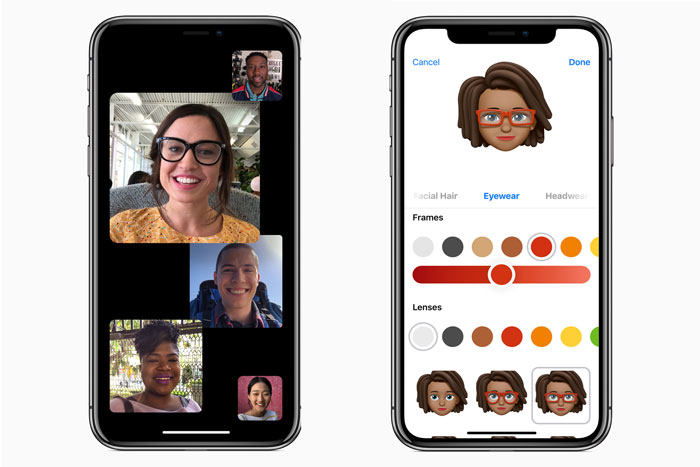 Feature Image by Apple
During Apple's annual conference last month, the tech giant not only announced its newest iPhones, but it also gave us a peek at the latest iOS update.
With a faster response time, new Animojis, intelligent search suggestions, and so much more, iOS 12's features are designed to make your iPhone and iPad experience more responsive and advanced than ever. The new update is available to download now on any iPhone 5S device or newer, iPad fifth-generation or newer, iPad Mini 2, iPod Air, or iPod Touch sixth generation.
Check out the most exciting features of Apple's latest mobile operating system below:
Faster performance
iOS 12 has improved the speed at which you can do your everyday mobile tasks. It has up to 40 percent faster app launch, up to 50 percent quicker keyboard display, smoother animations, and even up to 70 percent faster swipe to the camera so you never miss the chance to capture a moment.
Group FaceTime
You can bring your iMessage group chats to life because iOS 12 allows you to make FaceTime calls with up to 32 participants. The feature will be available later this fall, so be on the lookout for a software update!
Memoji
Customize an Animoji that fits your personality and mood. A new tool lets you select and adjust nearly endless customization options to create a Memoji. Plus, the improved face ID now recognizes when you stick out your tongue or wink.
Screen time
We've all spent hours scrolling through social media feeds or surfing the web. iOS 12 empowers you to understand and make choices about how much time you spend using your mobile device by providing weekly reports, which include app usage, notifications, and device pickups.
Grouped notifications
Checking your phone to find an immense list of notifications can be overwhelming. With the new grouped notifications feature, message threads and notification topics are grouped together so it's easier to see what's important.
Photo sharing
Whether you're on vay-k with your girlfriends or at a concert with a special someone, your iPhone will now suggest sharing the photos with whoever you're with. If you receive photos from someone else, your device will check your library from the same event and suggest sharing photos back.
Camera updates
As if the iPhone camera could get any better, it now has improved portrait mode lighting that elegantly separates the person from the scene, portrait segmentation API for separation of layers in a photo, and an improved QI code reader.
Siri suggestions
As Siri learns your routines, you'll get suggested shortcuts for just what you need on your lock screen or in your search bar including searching for photo memories, finding passwords, translating phrases, and using Find My iPhone.
Enhanced security
Keep your personal information safe with the upgraded security options. iOS 12 offers enhanced tracking prevention, password reuse auditing, password sharing, security code auto-fill, password manager API, and automatic strong passwords.
Do Not Disturb options
Now it's even easier to avoid the distractions on your phone. Using the Do Not Disturb feature during bedtime will dim your display and silence overnight notifications until you unlock your iPhone in the morning. You can also set a timer to automatically end Do Not Disturb in an hour, at the end of the day, when you leave a certain location, or at the end of a meeting on your calendar. Neat, right?
Which iOS 12 feature are you most excited about? Let us know in the comments below!
xx, The FabFitFun Team