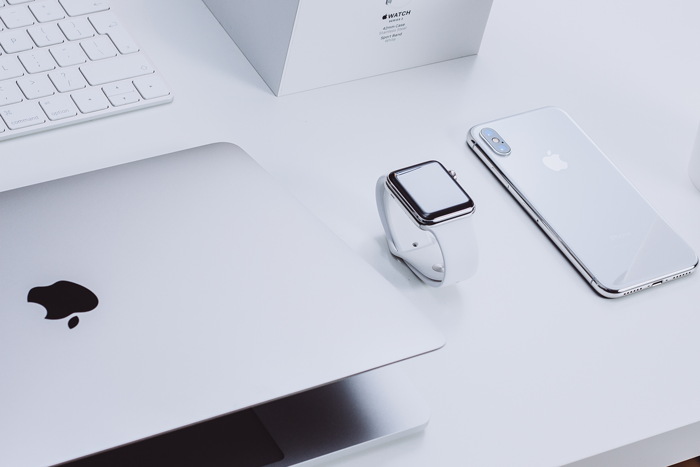 Feature Image by Michał Kubalczyk
The Apple World Wide Developers Conference took place September 12 at the Steve Jobs Theater in Cupertino, California where Tim Cook and other Apple execs introduced Apple's newest gadgets.
From bigger and better iPhones to an updated Apple Watch, here's everything you missed at the tech event of the year.
iPhone XS and iPhone XS Max
Just imagine last year's iPhone X…but better. It has the same super retina display and dual camera technology, but the iPhone XS features a more advanced Face ID and an A12 bionic chip, which is the smartest, most powerful chip in any smartphone so far. Not only that, Apple followed suit on its usual iPhone and iPhone Plus series by introducing the iPhone XS Max, which includes all the same features as the iPhone XS but with the largest iPhone display to date. Both the iPhone XS and iPhone XS Max will be available to preorder beginning September 14.
iPhone XR
The iPhone XR features an all-new liquid retina display, which is the most advanced LCD in the industry, along with an even faster Face ID, a breakthrough camera system, and a smart A12 bionic chip. Oh, and guess what? It comes in six different color finishes: blue, white, black, yellow, coral, and red. The iPhone XR will be available to preorder October 19.
Apple Watch Series 4
The newest Apple Watch features the largest display yet and a new electrical heart sensor that lets you use the ECG app to generate an electrocardiogram (ECG) at any time to share with your doctor. Pretty neat, right? Preorders for the new Apple Watch begin September 14.
iOS 12
iOS 12 is the world's most advanced mobile operating system, offering a faster and more responsive experience with a 70 percent faster swipe to the camera, up to 50 percent faster keyboard display, and up to two times faster app launch. It also offers four new Animojis and a new Memoji feature, which allows you to create your own Animojis (reminiscent of Bitmojis form Snapchat). You can see the complete list of updates here, which will be available September 17.
What do you think about Apple's latest releases? Weigh in on the comments below!
xx, The FabFitFun Team