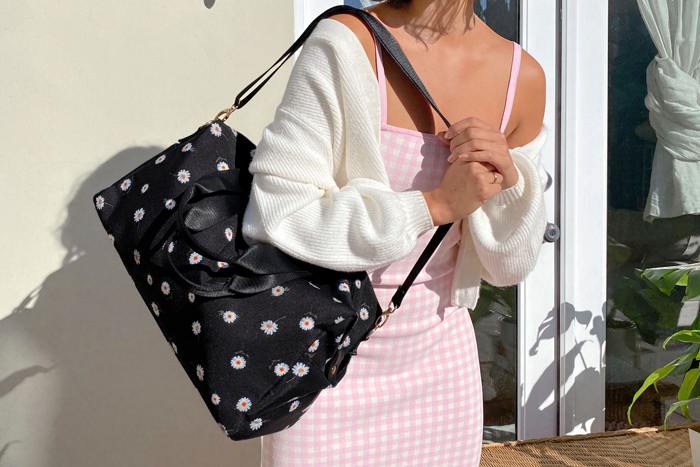 Florals for spring? Duh! We collaborated with Stacey Bendet, founder and creative director of alice + olivia, to bring back one of their iconic daisy prints just in time for the season. After all, what's spring fashion without a floral motif?
"I have always gravitated toward floral prints and nothing says spring like a daisy! Daisies symbolize many things — innocence, love, [and] new beginnings!," says Bendet.
We featured Bendet's whimsical daisy design on two highly requested products from our members, which you can find in the Spring Box: a functional duffel bag and a chic bucket hat.
As for tips on how to style the pieces? "This print is super versatile and goes with both neutrals and bright colors. The hat is reversible for days when you want to go as simple as possible. The bucket hat shape is the must-have accessory for spring."
We also spoke with the designer about upcoming spring trends and how to own your confidence. Check out the interview below!
Your brand mission is all about empowering women. How do you hope the FabFitFun woman feels when wearing your pieces?
As a female CEO that runs a brand designed for women and run by a team of 400 women, I want to create an environment where women can be empowered and inspired. I try and lead by example to show women that supporting each other is the best way to be successful. When a woman comes to alice + olivia, it's about her whole life and not just one outfit. Creating new ways to empower her as she changes the world is what keeps me motivated and a designer.
What does the design process typically look like for you — from finding inspiration to execution?
My creative process is a stream of consciousness and I embrace inspiration whenever it finds me. I start by setting a unique theme for the collection, which can come from travel, the world around me, or collaborations with different mediums like art, music, and dance. My intention is that every delivery of clothing is its own theatrical moment. Every outfit needs an emotional anchor that pulls you in and pieces that layer back to it, creating that element is extremely important to me.
What are some trends you foresee in spring 2021?
Spring 2021 embraces new casualness in fashion, elevating everyday cozy pieces with smart tailoring and glamorous design details. Fresh printed sweatshirts are styled with sweeping skirts, hoodies feel pretty under chic tailored coats, a voile blouse works perfectly in true at-home fashion with track pants, delicate embroidery looks fresh with baggy denim, and a sparkling sequin mesh top has a sense of ease with cargo pocket sweatpants.
What tips do you have on finding your own style and owning your confidence?
My own confidence comes from the strong women in my family and parents who raised me and my sister to believe that we could do anything.
My rule is [to] always use your clothes to uplift and inspire yourself. Because, in the morning, when you get dressed, that's your creative expression and that's what you're showing to the world without saying a word each day. I always tell women to remember that and to think about what their message is going to be for the day.
What piece of advice do you have for women who are aspiring to work in the fashion industry?
Stick to your vision and remind yourself every day that hard work is what makes it happen. It's never about why you can't do something it's about how you are going to achieve it. Stay positive and focus on making and producing beautiful clothing.
xx, The FabFitFun Team
Psst! Have you signed up for FabFitFun yet? Don't miss out on seasonal boxes filled with the best products in beauty, fitness, and lifestyle, member-exclusive sales, an amazing Community of like-minded women, and more. Use code FLORALS at checkout for 20% off your first box.
To get the most out of your box products, make sure to check out the Members Only page.