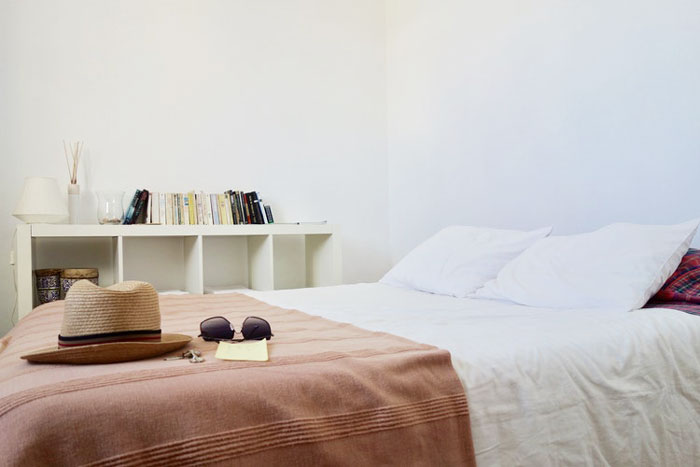 Feature Image by Kelcie Gene Papp
Airbnb takes the hassle out of traveling because it allows you to skip the pricey hotel room and stay in a place that best fits your tastes, needs, and budget. However, there are some helpful points to keep in mind both as a guest and a host to ensure a pleasant Airbnb experience.
We asked three travel experts to share their best Airbnb etiquette tips you should consider before booking or hosting an Airbnb below.
Guests
Always check reviews
"As a guest, do check reviews and contact the owner when there is an issue (major or minor)," says travel writer Elena Murzello. You'll also want to do your research about the amenities nearby like transportation, stores, and restaurants.
Safety first
"If [you're] traveling solo and there was a review about a sketchy neighborhood, don't book a place just because it is cheap or within budget," Murzello explains. Safety should always come first, she adds. Or once you arrive at your Airbnb and you find that you're uncomfortable, Philipps advises,"Don't stay if you have an uneasy feeling." Even if you ultimately lose your money, she suggests that it is always better to trust your gut and make peace of mind and safety a priority.
It's OK to ask for discounts
"Do feel comfortable asking for a discount if you are booking last minute or staying for an extended period of time (generally a week or more)," says Kinga Philipps of Travel Channel's Off the Map. "Remember that it's better for a property owner to have their place rented than to have it sitting empty, so they might be willing to negotiate a lower rate."
Be on time
"Do show your host respect by not checking in early or too late," says Tammy Staley, a travel consultant for Milestone Travels. If you must do either, she suggests contacting your host as soon as possible.
Treat rentals like your own home
"As a guest, always try to treat the place like it's your own home," says Murzello. If there are rules, such as no smoking or collecting garbage, make sure you follow those rules. "As a guest, don't slam front doors or be loud in common areas of the building," Murzello says. Always be mindful of your neighbors.
Don't be afraid to speak up
"Do let your host know if something is not as it was described," Staley advises. "It is only fair to give them a chance to fix any issues before you give them a bad review."
Don't expect hotel-like accommodations
"Read the description thoroughly and make sure you go through the pictures. That information is there so you have an informed idea of where you will be staying," says Staley.
Hosts
Have the right supplies
"As a host, make sure you have adequate supplies," Murzello advises. Stock up on basic kitchen necessities, have a decent coffee machine, and [leave] an adequate amount of towels for the guests." Small items like maps and transit cards are also a nice touch.
Splurge on WiFi
"As a host, splurge for functioning WiFi so your guests can easily navigate the city or do work," says Murzello.
Hire a housekeeper
"Hire a housekeeper if you don't have time to clean up after each guest," Murzello advises. This includes taking out hair from a clogged drain, washing sheets and towels, or vacuuming common areas, she adds.
Don't overhype your place
"As a host, don't oversell your place," Murzello says. Be truthful in the description of your home, which includes location and atmosphere (tell guests of there is construction or other distractions).
xx, The FabFitFun Team
Not sure what to bring along on your travels? These six bloggers share the one item they never travel without.