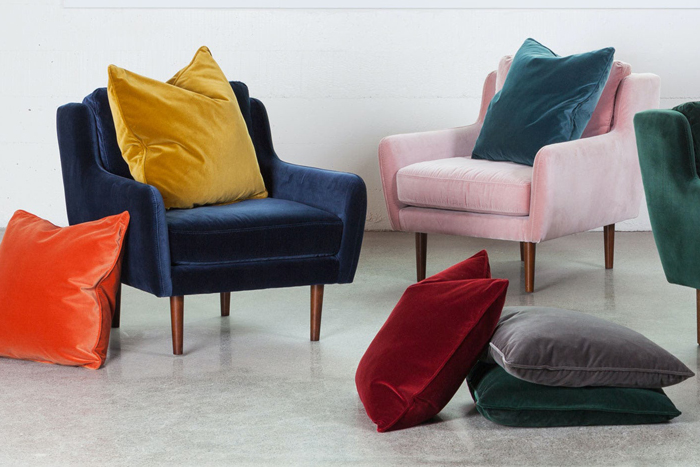 Feature Image by Article
While you might not be ready to go all-in and buy a bright green velvet couch, you can absolutely test out brighter and bolder palettes to serve as focal points in your space — all without buying a large piece of furniture in the process. The trick? Accent pillows, of course!
It's one of the easiest and most affordable ways to give your space a whole new vibe as it can completely transform the look of your couch, chairs, and bed. So, with that in mind, we rounded up 15 of our favorite bold accent pillows to pull any room together. Don't blame us if you end up wanting to buy them all!
Dig the idea of a hint of green in your living room? This cozy velvet pillow might just make you want to go all-in with the brand's matching velvet chairs or couches as well.
---
The shag texture of this color-block pillow is so '70s — and we're so here for it.
---
Talk about nostalgia! This throw pillow features PacMan, TMNT, Dr. Dre, and more.
---
One thing's for sure: If you add one of these fluffy fur pillows to your decor, you're sure to get lots of questions about where you got it. Not only are they incredibly soft, but they also come in a handful of colors.
---
This artsy take on zebra stripes is eye-catching, no? We're forever fans of pink and red combos.
---
This funky dotted pillow is simply too cute to pass up. Let it be the only print in the room or pattern mix it with others. Either way, it will add a certain je ne sais quoi to your space.
---
Doesn't this pillow just make you want to dive in to bed, a new book, a good show? Yup, you'll love getting comfy with it.
---
Sure, fur is a bold textile choice on its own. But, add multiple colors to the mix, and you have yourself a focal point none of your guests will forget.
---
Truly, how cute is this pillow? From the warm colors to the fuzzy feel, we're in love.
---
Matthew McConaughey is a whole vibe — and this pillow embodies it.
---
Floral fanatics, this one's for you. This large pillow is stunning as-is from the front but, if you get tired of the pattern, you can reverse it for a yellow-tinted change of pace.
---
Craving something a bit more psychedelic? This booty-shroom combo will surely do the trick.
---
It's all Gucci, right? Well, with this fun pink pillow it certainly will be.
---
Pricy? Yes. Stunning? Undeniably. From the colors to the texture, this fuchsia beauty is what accent pillow dreams are made of.
---
We can't stop staring at this pillow. From the next-level makeup on each eye to the bold background as a whole, we're smitten.
xx, The FabFitFun Team