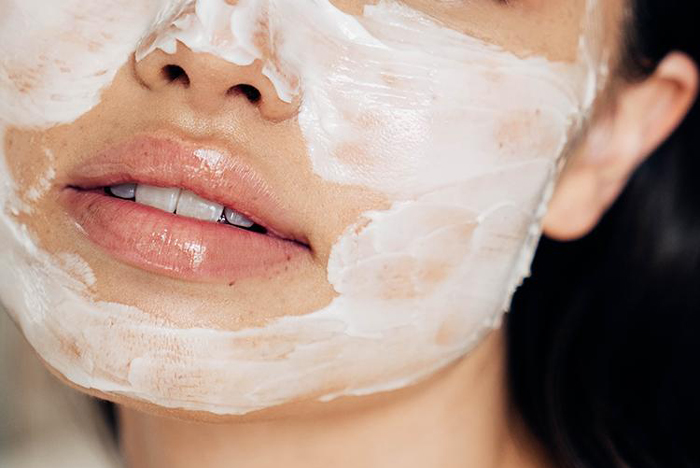 Feature Image by Summer Fridays
The gentle transition from summer to fall is, for many, the best time of the year. Out come the denim jackets, flavored lattes, cozy nights, and honey-colored leaves. But cold weather also beckons an unwanted guest: dry skin. 
Lack of moisture in the air and harsh winds make it harder for the skin to maintain its healthy summer glow. That's where hydrating masks come in; a quick and reliable way to give the skin some much-needed TLC.
Because nothing, especially not the weather, should steal your glow, we've rounded up the best hydrating masks for post-summer skin.
Certified organic and "pillow-proof," this mask fights redness and signs of aging with an all-natural dose of hydration that can be applied right before bed. Founded by supermodel Miranda Kerr, the brand even energizes its products with rose quartz, offering an additional soothing effect for mind and body — help you achieve that desired bouncy glow.
---
A cult-favorite that never stays in stock for long, Sthis mask leaves the skin buttery smooth in as little as 10 minutes. It's versatile enough for daily use or can be used as an overnight mask. Apply a thick layer to the face and neck for a boost of ceramides, vitamins, and antioxidants — and voila — an instant refresh that relaxes and revitalizes the skin no matter your final destination.
---
Clinique remains a skin care mainstay with a multi-generational following. All products are free of allergens, irritants, and other harmful ingredients, and this oil-free mask in particular uses activated aloe water. It absorbs into the skin and locks in moisture overnight, for dewy morning brightness.
---
This sheet mask set reinvigorates the skin with each use, turning to marine collagen and elastin to stimulate cell rejuvenation. Coupled with Vitamin E, the active ingredients instantly heal scarring and signs of aging, while combating free radicals. It's also said to increase water retention for long-term hydration, making it great for those prone to dry skin, and those upcoming dry winter months.
---
A science-driven product that not only hydrates but also evens out skin tone and surface texture. Known for tailored skin care routines, Paula's Choice created this mask for all skin types, whether your concern is acne or anti-aging. Its lotion consistency calms the skin and is easily incorporated for daily or weekly use. 
---
Brought to you by the same skin care experts that gave us Skin Laundry's celebrated laser facials, this sheet mask targets moisture below the surface, flooding the skin with 24-hour hydration. Simply drape the mask over the face and let it sit for 15-20 minutes. It's a quick flush of amino acids, minerals, and vitamins that's also sulfate and paraben-free.
---
Designed for overworked skin and days of non-stop travel, the chamomile mask soothes the skin and gives off a dewy, fresh-faced finish. It was made for on-the-go, and requires a simple pump one to two times a week, wafting with a blissful floral aroma.
---
This award-winning mask may come in at top dollar, but its massive following isn't to be ignored. The product not only hydrates the face but also tones and awakens skin from routine fatigue and dullness. The cream and gel-based formula speaks to its flowery name, incorporating active ingredients from lily to iris. Throw it on during even your busiest mornings, all in just 3 minutes.
xx, The FabFitFun Team