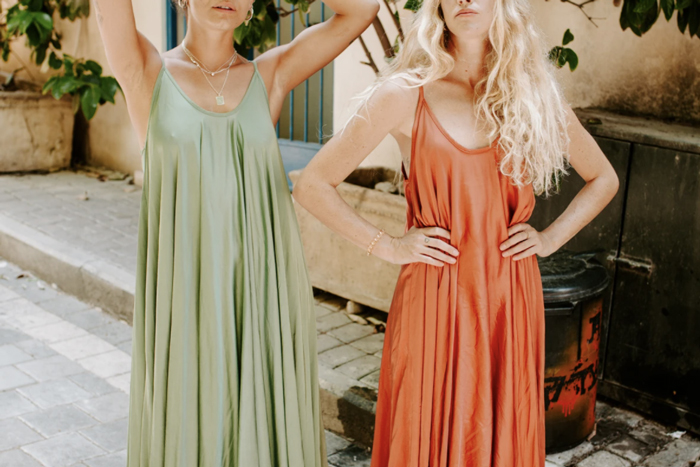 Feature Image by Silk and Salt
With trees and flowers coming to life before our very eyes, there's no denying that spring is in full swing. So it's time to officially swap out your heavy dark clothes for vibrant, more colorful pieces.
Stylist Katy Robbins uses the fresh feel of spring to inspire her warm-weather wardrobe upgrade. "I get my spring color inspo from nature," she says. "Flowers and trees start blooming and I feel moved to ditch some (but not all) of my black pieces."
As stylist Erin Noël points out, it's the perfect time to try something daring. "Don't be afraid to try a new color combination, " she says. "Create your own — there are no rules!"
There may not be rules, but there are a handful of certain colors in vogue according to the pros. But no matter what you choose, just wear what works for you. "Don't ever wear a color trend just because it's the 'it' color," Robbins says. "Make sure you look and feel great when you look in the mirror." After all, there's nothing more stylish than confidence!
Lavender
Pastels for spring may not be groundbreaking, but it's a classic for a reason. "Soft pastels are great to throw on to cure winter blues," Noël explains. "Lavender is a go-to of mine."
Nothing says spring more than a lavender linen dress.
---
Orange and Blue Combo
Noël pulled this color combination straight from the runway — and we're obsessed.  "Bright pops of color are always inspiring to me."
Instead of rocking the typical floral pattern, change things up with a playful paisley print like this one.
---
Cerulean
Not your average blue hue! This vibrant color is guaranteed to turn heads no matter where you wear it. Plus, Robbins notes, "who doesn't love getting to reference The Devil Wears Prada and say that she's wearing cerulean?"
Between the wide legs, the draping details, and the eye-catching color, we cannot get enough of this cocktail party jumpsuit.
---
Taupe
Soft nudes and whites are a go-to for Robbins when the temperatures start to rise. After all, they never go out of style. "Everyone has a nude that works for them, it's just a matter of finding it," she explains. "I advise buying higher quality classic wardrobe staples in whites and nudes." Then you can pair these pieces with more affordable trendy styles and colors.
Pair this midi dress with wedges for a garden party or sneakers for a comfortably chic errand-running look that screams street style star.
---
Yellow
"Just like nude, finding your yellow isn't easy but everyone has a shade of yellow that works on them," Robbins says. "Just keep trying until you find it." She says that the key is looking for a pigment that doesn't make your skin look sallow.
The subtle yellow tint in these spring-perfect pants makes for a great jumping-off point.
---
Rust
If you like how moody the colors of fall and winter feel, rust is the spring hue for you. "I've been in love with rust for the past two years and am so happy that more designers are creating pieces in this color," Robbins says.
This flowy silk dress feels as dreamy as it looks. Not to mention, it pairs with just about anything. You can dress it up, dress it down or wear it with a sweater on cool nights.
---
Light Wash Denim
"I love easy transitions into spring," says Noël. This includes saying goodbye to your dark jeans for light wash must-haves.
Give your look a little bit of edge with these trendy high-waisted jeans.
What spring colors are you most excited to style? Let us know in the comments below!
xx, The FabFitFun Team