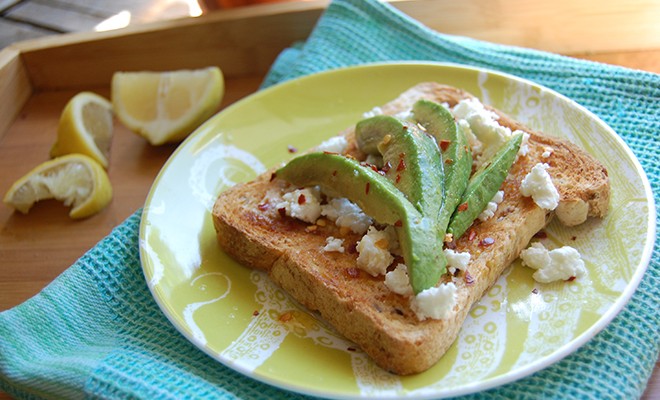 Look, we get it. It can be tough to get out of bed for work, let alone make yourself a hearty breakfast. And we don't mean to sound like a broken record, but you should know by now that breakfast is an important start to your day.
Lucky for you, the healthy brekkies below only take five minutes to make…so you'll have time to sleep in and start your day with a fortifying breakfast! #yourewelcome
Coconut French Toast
French toast is always one of our favorite breakfasts, but we're obsessed with this tropical, dairy free version! Simply soak a few pieces of stale bread in a mixture of coconut milk, shredded coconut, and whisked eggs. Cook in a hot pan with coconut oil or butter, and serve with raspberries. Yum!
---
Ham and Cheese Croissant
Ooh la la! Start your day like a Parisian with this simple treat. Turn your oven up high, line a baking tray, and place both halves of a sliced croissant, with its side up. Add slices of cheese, tomato, and smoked ham. Pop into the oven and cook for about 30 seconds to a minute. Croissants burn quickly, so pull it out as soon as the cheese melts!
---
Fruit Salad
Chop up your favorite fruits, splash a bit of orange juice in, and mix it up with shredded mint leaves. So refreshing! We love it with a bit of yogurt and honey.
---
Avocado and Feta Toast
Toast your favorite multigrain bread, crumble some feta cheese, and top it off with a perfectly ripe avocado. Then finish it off with a drizzle of extra virgin olive oil and a few chili flakes to spice it up!
---
Miso Corn Fritters with Poached Egg
It looks fancy, but we promise it really takes five minutes! First, bring a small pot of water to a boil. In a blender or food processor, combine one cup of corn kernels, one tablespoon of miso paste, three tablespoons of flour, a nice splash of milk, a pinch of brown sugar, and some black sesame seeds. Give it a few pulses, so the ingredients are combined and the corn is slightly chopped up. Put a pan on the stove and add a good knob of butter. By this time, the water should be boiled. Reduce the heat to low. Pour in a few drops of vinegar, and then use a spoon to create a "whirlpool" in the water. Gently crack an egg and let it cook for about 90 seconds and then remove it with a slotted spoon. Pour a few circles of your corn batter into the buttered pan and cook in batches.
xx, The FabFitFun Team