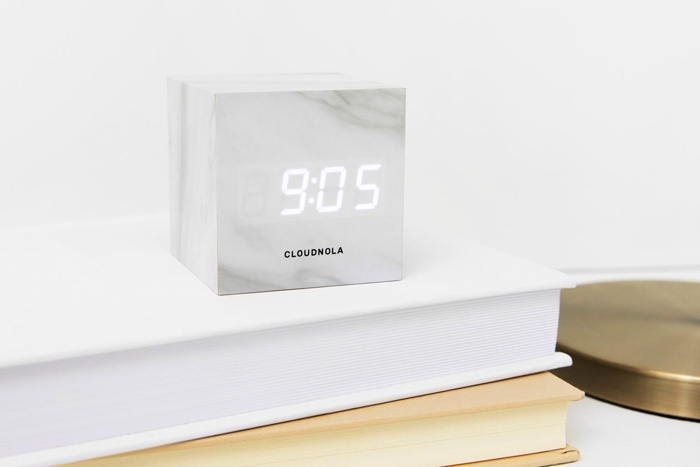 Taking charge of your sleep schedule is no easy feat. It means adjusting your lifestyle and ditching the bad habits you may have adopted through the years. Our advice? Start by making small but mighty changes to your daily routine and see if they help you catch your zzzs. Check out five of our favorite tips to get started ahead.
Keep a regimen
Experts recommend waking up at the same time every day to nurture your body's circadian rhythm. Set an alarm on the Cloudnola Block Clock for the same time every day, and pay careful attention to how it affects your sleep cycle improves.
Choose your beverages wisely
Consider taking a break from your mid-afternoon cup of joe and sip on a cup of hot water and lemon instead. This will ease any coffee jitters and help your body wind down as you near nighttime.
Get outside
Make the most of the sunshine whenever possible, especially in the morning! Whether you walk around your neighborhood for a half-hour or switch your workouts outdoors, taking a moment to appreciate the daylight has been said to help set your internal clock.
Ditch the technology
Help your body mellow out by setting aside your electronics 30-60 minutes before bed. During that time, cozy up with the Arhaus Waffle Knit Throw Blanket. It's heavier than a standard throw, which will make it easier to fall asleep!
Set the mood
Instead of turning on all of your lights, light a scented candle, like the Arhaus Copper Candle. It'll add a subtle glow to your room while infusing the space with the scent of Moroccan Spice or Evergreen.
Do you have any other tricks you do to improve your sleep? Let us know in the comments below!
xx, The FabFitFun Team
Psst! You can find the wellness products previously mentioned and more in the Fall Box! If you're not a member yet, sign up today so you don't miss out on seasonal boxes filled with the best products in beauty, fitness, and lifestyle, member-exclusive sales, and more. Use code GOODIESGALORE at checkout for $10 off your first box.
To get the most out of your box products, make sure to check out the Members Only page.