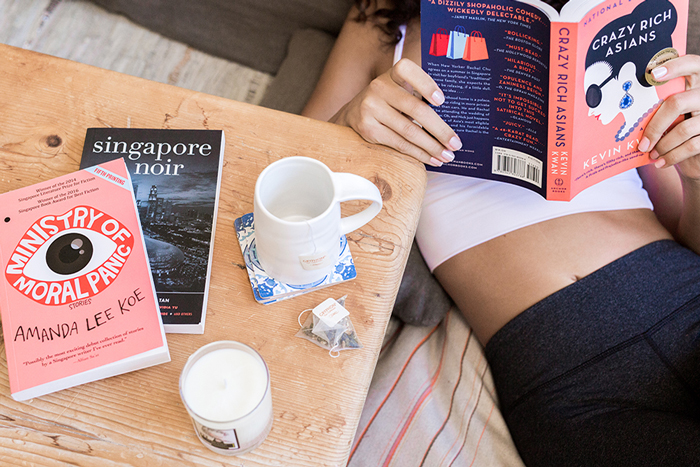 SPONSORED BY SINGAPORE TOURISM BOARD
When we say Singapore is a must-visit, that's an understatement — because the island is the perfect place for discovering your passions.
Lush greenery, breathtaking architecture, vibrant culture, and delicious food are just a few things you can expect when you visit, and it'll take you on the most unpredictable journey and get you passionate about…well, your passions. The Singapore passion tote is the perfect way to kick-start your adventure to Singapore as each item in the bundle is inspired by the city-state itself —  including a coaster set, novel, candle, tea, and tote.
Read on to discover the stories behind the goodies in the tote and get ready to book your flight!
For the trendsetter
Singapore's shopping scene is no joke. With a versatile offering of up and coming international and local heritage brands, it's basically a shopaholic's paradise and gives you the chance to build your own identity. So whether you're a collector, trendsetter, or fashionista, use the Passion Tote to carry all of the goodies you pick up and discover a side to yourself you never knew existed.
For the culturally curious
Raise your hand if you're a sucker for architecture. Well, Singapore has no shortage of jaw-dropping buildings and neighborhoods, which is reflected in the Peranakan Coaster Set by The Forest Factory. The stunning wooden coasters feature prints inspired by the vibrant colors and motifs from the Peranakan community, descendants of Chinese traders and local Southeast Asian women, and its ornate architecture. Not only that, this coaster set is a gateway into some gorgeous Peranakan spots in Singapore such as the shophouses along Joo Chiat Road and the Peranakan Museum, which you can personally experience when you visit the island.
For the explorer
Every traveler needs to bump Singapore up on their list of "places to visit before you die" for its spectacular supertrees and flowers like Frangipanis that are endlessly in bloom. Nearly half of Singapore's land is covered in greenery and the gorgeous scent of the Singapore Journey Candle by To Be Calm will ignite your desire to experience the natural beauty of Singapore firsthand. You can also save it for after your trip to trigger fragrance memory — it'll transport you back to the city where you rediscovered your passion!
For the foodie
Thanks to the cultural melting pot that is Singapore, the food scene offers a blend of Asian and Western food that is sure to tickle every palate. Singapore's unique culture and heritage is reflected in The Singapura Spice Tea by Gryphon Tea, which was created with the founder's favorite food memories in mind. The Gryphon Tea Company traces its origins back to a family-owned tea importer founded in Singapore almost 100 years ago (so you can bet they know what they're doing). The distinct yet tasty blend features curry leaves, which are typically not used in beverages — but thanks to the founder's passion for food and creating new taste experiences, it was made possible.
For the bookworm
If your schedule doesn't permit a trip anytime soon, don't worry — because getting lost in a book is the next best thing. Each tote comes with one of three novels about the different aspects of Singapore, so transport your mind to the exciting island and experience the vibrant culture through the eyes of Singaporean authors.
Crazy Rich Asians by Kevin Kwan dives into the life of a wealthy Asian family. You'll get an inside look at Asia's old money and new money, and what it means to be young, in love, and, of course, rich — it's even being adapted into a feature film!
If you're a fan of heartfelt stories, you'll love the stories in Ministry of Moral Panic by Amanda Lee Koe. The stories focus on a world fraught with anxiety, moral relativism, sexual frankness, and the improbable necessity of human connection.
Need something a little darker? Then Singapore Noir edited by Cheryl Lu-Lien Tan is a real page-turner. The collection of short stories is a way for outsiders to understand what really goes on in the shadows of Singapore, a city that has much to discover in every corner.
Check out this amazing video to see how Singapore can help your passions truly come alive.
For more information, follow @Visit_Singapore on Facebook or stop by VisitSingapore.com, and search the hashtag #VisitSingapore and #PassionMadePossible for major wanderlust. No wonder Singapore is recognized as the city of possibilities!
xx, The FabFitFun Team