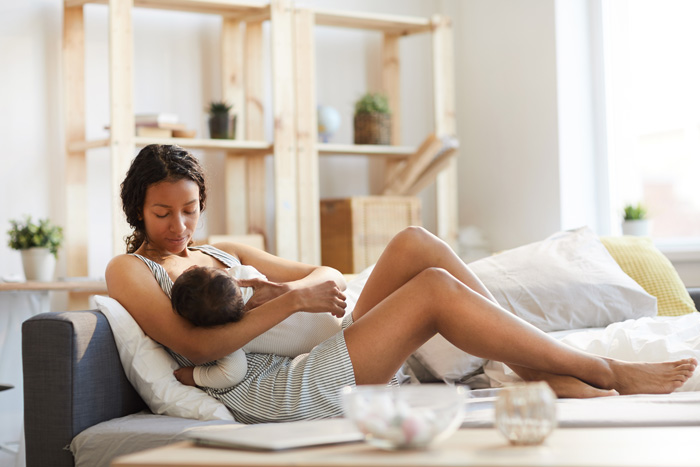 Embarking on the journey of motherhood is beautiful and exciting but also a bit intimidating, especially when it comes to breastfeeding. However, if you choose to breastfeed, there are a number of things to keep in mind that can help you navigate it with ease.
Below, we're sharing six things new moms should know.
Got milk?
Within about three days of giving birth, you can expect your milk to come in. For some, this process can be downright excruciating or even a little jarring. While some women experience a gradual increase in milk production and breast size, a little pre-emptive Motrin can go a long way in helping manage engorgement discomfort.
There are no stupid questions
You're about to embark on sustaining the healthy growth and development of a tiny, brand new human – so don't be afraid to ask your doctor or someone you trust about your concerns. A lot of hospitals offer in-room consultations with a lactation specialist during your postpartum stay, which is a great opportunity to rattle off any questions or concerns you might have once you and your little one have actually started the breastfeeding process.
Beware of breastfeeding boredom
During open-ended nursing sessions, you'll probably feel overwhelmed by the magic of maternal love. But you might also feel pretty bored at times. Set yourself up for success by planning ahead. Wherever you usually nurse, stash a pile of magazines you've been meaning to read, a comfy pillow, and a few healthy snacks to stave off hunger. For nighttime feedings, wireless headphones let you listen to music, podcasts, or audiobooks so you can stay alert without disrupting the drowsy babe in your arms.
Dress the part
First, pick up a few nursing bras that are comfortable and easy to use. As for your breastfeeding outfit, there are lots of stylish, nursing-specific clothes available, but you might find that slouchy maxi dresses and T-shirts made of soft, flexible fabric work just as well. As for accessories, keep nursing pads on hand (stash some in your bedside drawer and in the car). In those first few months, while your milk flow is still regulating, they can be super helpful for absorbing any leakage and protecting clothing against stains.
Pumpin' ain't easy
If and when you decide to incorporate pumping into your breastfeeding routine, be prepared. Most electric pumps have a number of individual pieces that need to be thoroughly cleaned after each use. Don't be discouraged if pumping at work (or any time your baby isn't around) sometimes feels like a challenge. Getting into the right milk-making mindset is all about letting yourself relax and connecting with your baby even from afar. Try scrolling through photos and videos of your little one while pumping to nudge your body in the right direction and help you yield more milk. However, depending on how sensitive your letdown reflex is, you might experience leakage if you're thinking of your baby when you're not pumping.
Abandon expectations
Arming yourself with information is so important, but the most practical piece of advice anyone can offer about breastfeeding is to abandon expectations. As universal as motherhood might seem, it's also deeply personal, and stressing over whether your experience does or doesn't look a certain way is a waste of precious time that could instead be spent savoring the impossibly deep love that's blooming right there in front of you.
As always, consult your physician or doctor with any questions or concerns about breastfeeding.
xx, The FabFitFun Team