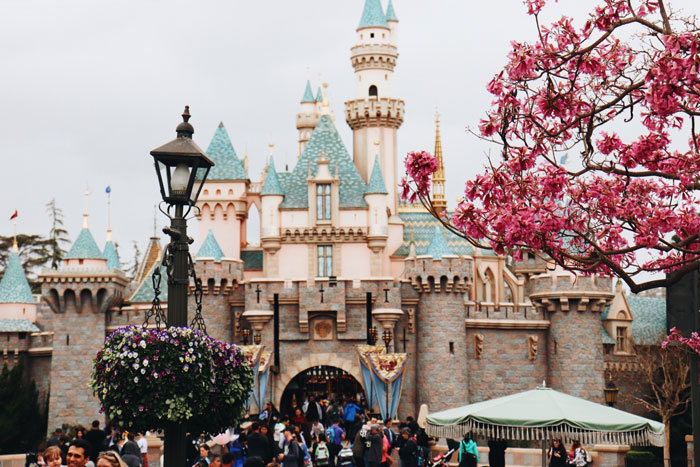 Feature Image by Skylar Sahakian
Disneyland isn't called "the happiest place on earth" for no reason. On top of the rides and photo-worthy spots that let your inner kid flourish, the park also offers some of the most delicious foods around.
Ready to indulge your inner foodie? Try these tasty bites and drinks on your next visit.
Dole Whip Donut at Disneyland Donut Cart
These scrumptious desserts are only made twice daily (once in the morning and afternoon) and combine the much-loved flavors of a classic Dole Whip with a fluffy doughnut.
---
Orange Cream Shake at Flo's V8 Café
No other shake compares to a shake at Flo's. Be sure to try one (or two) the next time you're there.
---
Millennial Pink Macaron at Jolly Holiday Bakery
We love a good food photo op, and this pink macaron takes the cake! It's almost too cute to eat…almost.
---
Crazy Mickey Dessert at Golden Horseshoe
Make the most out of your cheat meal with this colossal sundae filled with chocolate chip cookies, soft serve, caramel drizzle, and more.
---
Pineapple Cotton Candy at Cotton Candy Creations
A hand-spun pineapple-shaped cotton candy with pixie glitter? Yes, please.
---
Up Donut at Disneyland Donut Cart
How adorable is this Up-inspired doughnut? It has chocolate edible balloons and a soft, fluffy center to make your Disneyland food adventure a memorable one.
---
Mac 'n' Cheese Bread Bowl at Pacific Wharf Cafe
When in doubt, put it into a bread bowl. This is a secret menu item, so be sure to ask your waiter about it!
---
Sanianada at Clarabelle's Ice Cream
This fruity dessert starts with two scoops of watermelon sorbet, then it's layered with fresh watermelon chunks and topped with house-made tamarindo sauce and tajin seasoning.
---
Firefly Nachos at the Coke Corner on Main Street
Here's another secret menu item to add to your list. The medley of Fritos, chili, cheese, and jalapeños is sold at under $5 (we'll take two!).
---
Breakfast Tater Bites at White Water Snacks
Disneyland combined all of your favorite breakfast foods including eggs, tater tots, bacon, cheese, and more to create this drool-worthy plate.
xx, The FabFitFun Team