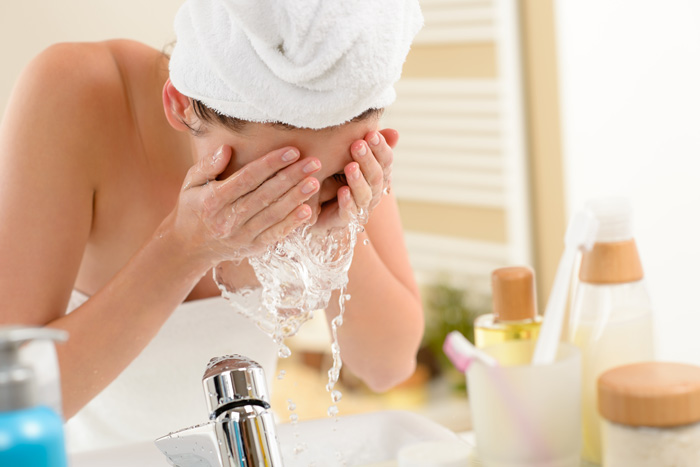 Cleansing your face may seem like a simple step in your skin care routine, but it's crucial to ensure your face is prepped, toned, and ready for all your favorite serums and oils.
Plus, with a variety of daily environmental stressors, a one-size cleanser no longer fits the needs of our evolving lives, which is why HoliFrog created situational cleansing.
But what exactly is situational cleansing? Read below to learn all about the latest skin care technique.
What is situational cleansing?
"Situational cleansing is a much more evolved philosophy based around indulging skin in its cravings," explains Emily Parr, co-founder of HoliFrog. Therefore, situational cleansing means switching the type of cleanser you use for different circumstances. The skin has different needs depending on what's going on in your life, environmental factors, and more, so when it comes to your skin and how you cleanse it, Parr reminds us that, "one formula simply doesn't cut it when it comes to face wash."
When to cleanse
The proper way to cleanse also depends on the time of day. Parr explains, "a.m. cleansing should take 60 seconds, and p.m. cleansing should take two minutes. In the morning, 60 seconds allows the product to work into your skin, dislodge any dirt, emulsify sebum, and for the formula to penetrate pores." While at night, "there are greater obstacles – dirt, sweat, oil, SPF, makeup, [and] pollution. So take one minute with an oil-based wash to emulsify and whisk off surface grime and makeup and spend the next 60 seconds with a gel, scrub, or acid wash to nourish the skin with the formula's active ingredients," Parr states.
How to do it
"Take a look at your current wash wardrobe and make sure you have several different textures. The various textures are a good indication of their strength and purpose," shares Parr. In the morning, wake up your skin with a quick hydration and amino acids boost from a milky cleanser like HoliFrog Tashmoo Water Lily Nourishing Milky Wash. At the end of the day, "when you're wearing a full face of makeup, HoliFrog Kissimmee Vitamin F Therapy Balmy Wash will first emulsify and then remove makeup, oil, and grime. Then, finish with HoliFrog Superior Omega Nutritive Gel Wash for a thorough clean that won't strip your moisture barrier," explains Parr.
xx, The FabFitFun Team