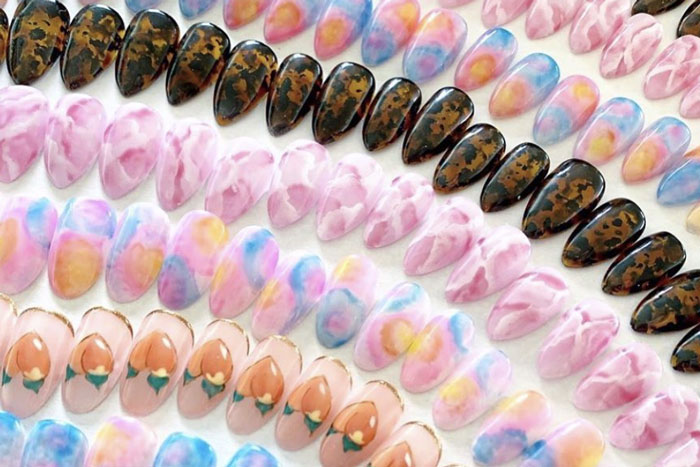 If you're like us, you probably have a whole new appreciation for your nail tech after attempting to DIY your own manicures and nail art during the quarantine. Thankfully, salons are finally starting to reopen their doors, but many are continuing to offer one of the best beauty trends to come out of the pandemic: press-on nails.
We're not talking about those '90s-style French-tip sets that never seem to fit your nails or stay on. The press-on nails of today are gorgeously-designed, customizable, and made to last longer than a day. As a bonus, they offer you a fun way to support your favorite nail salons who had to close shop during the height of the pandemic.
We spoke with Katie Masters, the insanely talented artist behind Nail Thoughts, for all the advice on how to apply press-on nails and make them last. We also rounded up eight of our favorite sets you can have delivered right to your door.
In order to get maximum wear time out of your press-ons, Masters suggests adhering to the following three steps:
Step 1: Sizing
Size your nails to the tips and set them aside. If some are slightly bigger than your nails, feel free to use the file to shape the sides and cuticle area down.
Step 2: Prep
A tip to make them last longer is definitely focusing on making your prep work flawless. Don't skip out on this part. If you have some length on your nails, cut them down. Use a medium-grit file to buff the surface of your nail, lightly. The goal here is to make sure there is no shine left because the glue is going to act like Velcro. If the nail is smooth and shiny, the press-ons won't stick to the nail as well. Next, take a medium-grit buffer and gently buff any areas that the file didn't get. Once that is done, cleanse your nails with alcohol to get all of the dust off. For extra credit, try buffing the inside of the press-ons if you see that it's shiny. Also, try to avoid exposing your nails to water 30 minutes before you apply, and after as well.
Step 3: Application
The key is to do one nail at a time.  Use the tip of the glue tube and apply a medium-sized blob of glue in the middle of your nail. Then quickly put a blob of glue on the inside of the nail you are about to apply. Be careful, the glue can be runny. Once the glue is on, take the nail and press it down at a 45-degree angle at the cuticle first, then press down onto the whole nail. Squeeze your finger and the nail together for about 15 seconds. Then boom! Let there be nails. Repeat on the rest of the fingers. Once complete, feel free to file off any excess glue or play around with shape. The good news is, if any nails pop off, you can just glue them right back on. The more glue, the more permanent.
Step 4: Removal
It's best to wait for the press-ons to come off on their own, between one to two weeks after application, and then re-use if you want.
Now that you're a press-on nail expert, check out eight of our favorite sets, below.
Masters' hand-painted sets sell out fast, but she's done multiple restocks so keep your eyes open for her next drop.
---
This LA-based salon creates custom press-ons based on whatever design you're wanting, so price varies per style. Direct message them on Instagram to order.
---
Pre-designed sets from this NYC salon are $80, while custom designs start at $80 and go up based on the intricacy of the request.
---
Choose from dozens of colors, shapes, and designs ranging in price from about $20 to $40 from Canadian nail artist Renee.
---
Sets from this nail artist range from $30 to $40 for pre-mades, or you can put in a request for something custom. As a bonus, all sets from Sculpted by Maya come in insanely cute holographic packaging.
---
Prices start as low as $15 for a solid-colored set of press-ons from The Sassy Nails Studio, or if you're feeling extra fancy, you can get a solid crystal set for $85. No matter your style, this nail artist has something for you.
---
This Rebecca Minkoff x Impress collaboration can be yours for only $8.99, available online or at most drugstores, along with other styles and patterns from this affordable brand.
---
Design your perfect set from Ethereally Touched Nails, choosing from a variety of shapes, sizes, and lengths in addition to color and design.
xx, The FabFitFun Team