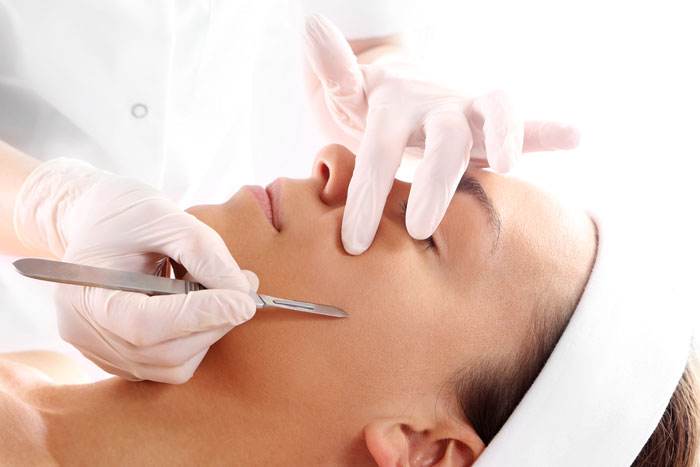 If you get facials regularly, it might be worth putting dermaplaning on your radar. It's a professional exfoliation treatment where the top layer of your skin is gently scraped with a scalpel (don't worry, it sounds more intense than it actually is!). The result? A healthier, silkier complexion.
What is dermaplaning?
Dermaplaning is a procedure that physically exfoliates your skin by "shaving" it with a surgical scalpel. The procedure, which you can receive monthly, is gentle, quick (only 30 minutes!), and simply removes the top layer of skin, which is where most of the dead skin lives. It also removes the fine hairs on your face, leaving skin smooth and helping skin care products absorb deeper into the skin.
Who should try dermaplaning?
Dermaplaning can treat oily and dry skin, acne scars, fine lines, and more as the procedure promotes cell turnover. But if you have active acne, you'll want to avoid dermaplaning as it can irritate your skin or cause scarring. Additionally, although dermaplaning only removes the vellus hair (aka peach fuzz), it's not recommended if you have thick or excessive facial hair.
What are the side effects?
Some possible side effects include redness or swelling, especially if you have sensitive skin. While the side effects are temporary, it's best to have the treatment a few hours before a big event to be sure your skin has time to settle. After the treatment, it's important that you wear SPF to avoid any damage to the skin.
xx, The FabFitFun Team