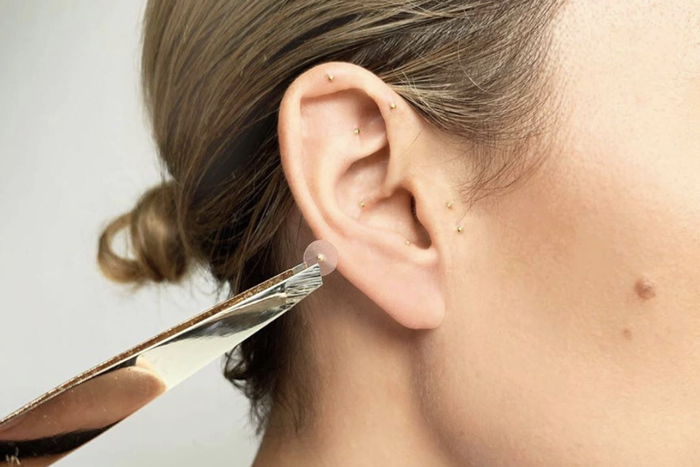 Feature Image by @veganbeautyeditor
While CBD innovations and wearable tech advancements continue to dominate the wellness space, acupuncture treatments, including ear seeds, are also continuing to grow in popularity.
Dr. Shari Auth, licensed acupuncturist, DACM, LAC, LMT, explains these small metal beads (which are placed on the ear) are a part of traditional Chinese Medicine (TCM) that dates back thousands of years.
"In TCM, the ear is a microsystem of the whole body with dozens of pressure points ready to transform the body and mind," Dr. Auth tells FabFitFun. "These points have healing properties such as calming the mind, boosting immunity, reducing pain, and more." Plus, ear seeds are a non-invasive way to empower your health!
Read on to see if ear beads are something worth trying for yourself, especially if you need that extra boost of wellness.
What are the benefits of ear seeds?
A 2013 study published by the Evidence-Based Complementary and Alternative Medicine journal suggested that ear seeds are beneficial in reducing chronic low back pain. Ear seeds have also been likened to other health benefits including weight loss and successful anxiety management. However, there still is a limited amount of published medical research supporting these claims, making it important to approach (and research!) any product claims carefully.
Additionally, doctor of acupuncture and licensed acupuncturist Dr. Kim Peirano, DACM, LAC, explains, "We think of the ear, hands, feet, and abdomen as microsystems of the body, where we can address any concern in the body. The ear is a popular version of this concept because it is very concentrated, making the effects are a bit more pronounced."
How are ear seeds applied?
Unlike an earring application, Dr. Auth explains that ear seeds are non-invasive tiny metal beads (usually found on an adhesive sticker) that are placed on top of the skin. Since these seeds can be placed on any number of points found on the ear, she says you can strategically place multiple seeds (between three to five) throughout the helix or lobule.
Does it matter where you place them?
Since the ear contains many acupuncture points, Dr. Auth says the placement of your ear seeds can vary depending on your needs. "Depending on where the ear seed has been placed, you may feel calmer, are in less pain, or experience an increased sex drive," she explains. "Get as close as you can to the designated point on the map for best results."
She also advises determining your key health objectives first, and then carefully placing the seeds where it can help you the most. "For example, you can use a seed to balance hormones and calm the mind," she suggests. "The two points will work together to produce a greater result." Also, you should know that results also vary depending on the person, as some individuals may feel relief immediately, while others (with more difficult conditions) may need to wait a few weeks.
Can you combine ear seeds with actual acupuncture?
Since ear seeds are often used in conjunction with acupuncture treatments, Dr. Auth says they can extend the results of your treatments received from a licensed acupuncturist.  She also notes, "Ear seeds can also be used on their own when you're too busy to get into the studio for an acupuncture treatment, or are traveling. While wearing ear seeds, you can apply light pressure to activate the effects of the seed for an extra boost."
As always, consult your physician or doctor if you have any questions before trying out any new treatments.
xx, The FabFitFun Team