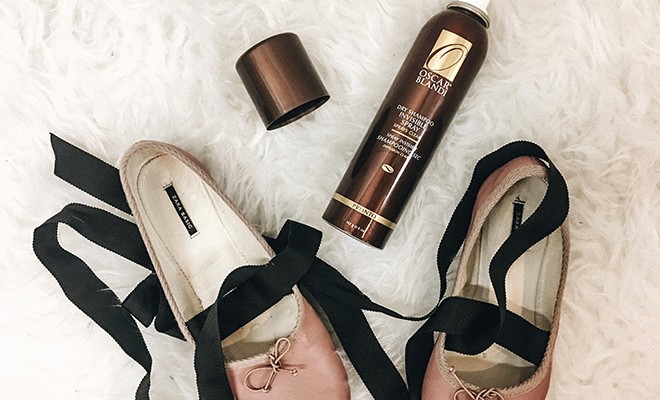 Dry shampoo is honestly a lifesaver. Whether you're trying to skip a few days of washing or you just didn't have time to shower in the morning, it makes greasy hair look fab in just a few minutes!
But did you know it can do so much more than make your hair look gorgeous? Dry shampoos (our fave is the Oscar Blandi Invisible Dry Shampoo Spray in our Welcome Box V.2) can save the day in more ways than one. We rounded up some unconventional uses for you to try with your fave dry shampoo!
Texture
Are you having trouble keeping those cute braids from falling out? Clean hair can be a little bit too slippery for certain hair styles, so add some dry shampoo for grip.
Slippery Hands
If your hands tend to get sweaty, spray some invisible dry shampoo on them to keep the perspiration at bay. It's especially helpful for activities like yoga, so you won't slide out of your poses.
Bobby Pin Grip
Bobby pins can slide out of your hair and pretty much defeat its own purpose. Before styling your hair, spray some dry shampoo onto your bobby pins to give them extra hold.
Smelly Shoes
Don't be embarrassed, we've all been here before. Shoes get smelly if you wear them a lot. So spray dry shampoo inside your shoes and let them sit over night. The product will soak up odor-causing oils and make them smell good as new!
Volume
Not only can you add texture to your hair, you can also add much-needed volume. Focus the spray on your roots and then blow dry your hair upside down to lock in the volume.
Sticky Legs
If the back of your legs are sticking to your desk chair, spray dry shampoo on that area to keep it from getting too sweaty.
Carpet Stains
Dry shampoo soaks up oil in your hair and it can also soak up oily stains on your carpet! Spray over the affected area and let it sit for 20 minutes and then vacuum that stain right up!
xx, The FabFitFun Team
P.S. Psst! Have you signed up for the #FabFitFun box yet? Don't miss out on $200+ in amazing beauty, fitness, fashion, and lifestyle products every season. Join today!
To get the most out of your box products, make sure to check out the Insider page.