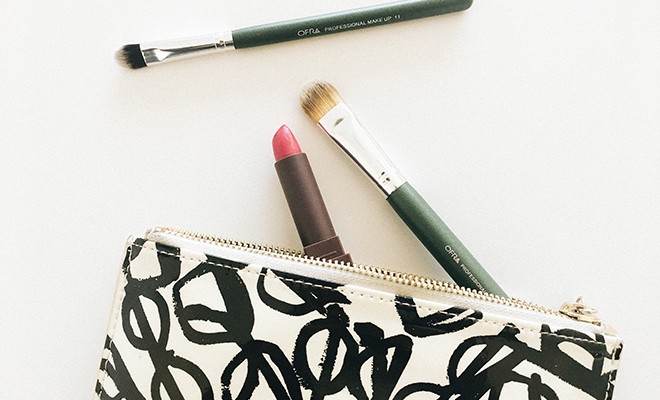 Brushes are an essential part of any girl's makeup routine, but you probably don't need as many as you think.
Luckily, our Welcome Box V.2 has the only two brushes you need: the OFRA #11 and #20. Though they're made for specific uses, it can be used in a variety of ways to apply makeup — and we're showing you just how!
Brush #11 – Concealer or Eyeshadow 
1. Smudging Eyeliner
Use this concealer brush to smudge out your eyeliner on your lower lash line for that perfectly smokey look! You can also use it to smudge your upper lash line for a sexy finish.
2. Define Your Brows
Use this brush to fill in your brows and  highlight the arch of your brow! Use a matte highlight shade under your arch and blend it out.
3. Clean up Your Dark Lip
Dark lipstick can be difficult to perfect when you just use the applicator — whether it's liquid lipstick or solid lipstick. Use the concealer brush to clean up the edges of your lips. This can either be done without any product, or you can dab the brush in a bit of your foundation or concealer to define the lips further!
Brush #20 – Wide Shadow or Foundation
1. Highlight
Who needs a fan brush when you have a foundation brush? Use this to apply highlight on your cheekbones, nose, and cupid's bow. Just be careful not to put too much product on the brush — a little can go a long way.
2. Contour Cheeks and Nose
The soft, slim tip of this brush is perfect for contouring your nose, and you can even use it to contour your cheeks! Be sure to blend out the contour to look like a glowing goddess.
3. Apply Face Masks
If you hate getting face mask all over your hands (and wasting product!), use this brush to apply your fave masks onto targeted areas of your face.
xx, The FabFitFun Team
P.S. Psst! Have you signed up for the #FabFitFun box yet? Don't miss out on $200+ in amazing beauty, fitness, fashion, and lifestyle products every season. Join today!
To get the most out of your box products, make sure to check out the Insider page.