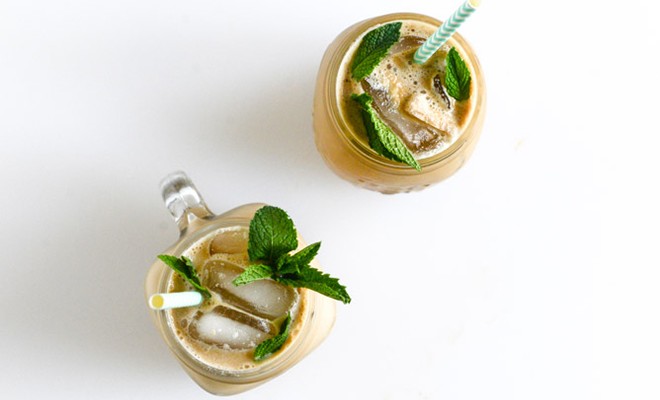 howsweeteats.com
With summer comes some refreshing cold brew — but let's face it, the cost adds up. This season, instead of paying five bucks for every order of cold brew, whip up a few of your own chilled coffee beverages to save you those extra dollars.
From coconut chai flavors to a sweet caramel macchiato, ahead are all the cold coffee recipes you need to beat the heat. The best part? They're easy to make!
Paleo Iced Caramel Macchiato
Everyone loves a caramel macchiato, but sometimes a coffee shop's version isn't the friendliest to your waistline. Lucky for you, this paleo alternative tastes just as good without breaking the bank. Talk about a win-win!
---
Cold Brew Iced Mocha Pops
If you're a fan of coffee flavored desserts, you're going to want to indulge in these mocha pops all summer long. The icy treat is the perfect midday pick-me-up on a hot afternoon.
---
Fresh Mint Iced Coffee
There is literally nothing better than fresh mint, especially when it involves cold brew and a jolt of caffeine. This delicious recipe combines the perfect amount of coffee and the subtle taste of mint that's not only delicious but also refreshing.
---
Almond Milk Cold Brew Latte
For anyone who's trying to stay away from dairy, this almond milk latte is the perfect alternative. This vegan drink may be light in calories, but it doesn't skip out on the creamy and rich taste you expect from lattes. If you want double the coffee, chill it with frozen coffee ice cubes so it doesn't water it down!
---
Coconut Chai Iced Coffee
For our Chai lovers, this coconut chai iced coffee is a fun and spicy recipe to cool off on hot mornings. Made with creamy coconut milk and cinnamon, it's a fancy coffee beverage you can make at home without spending those extra bucks.
xx, The FabFitFun Team