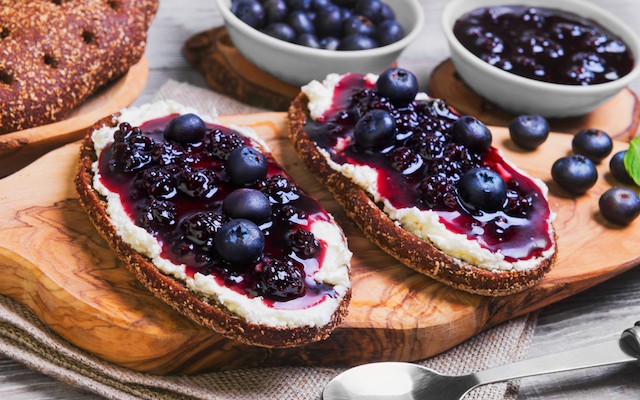 Between The Bachelor, The Bachelorette, and Bachelor in Paradise viewing parties, we wine and dine guests on a weekly basis these days. And while we love a good cheese board, we always try to have some special hors d'oeuvres to have our guests falling in love faster than someone gunning for a First Impression Rose. This week we're whipping up a sweet and satisfying roasted berry crostini that's simple and delicious.
The balance of flavors you get from the sweetness of the jam-like berries paired with the creaminess of the ricotta is divine! And who doesn't love crispy slices of baguette?! Prepping the berries and ricotta mixture the night before is also a great idea if you know you'll be crunched for time the next day. (Have fun with this!) Toss in some raspberries and strawberries too if you'd like, and let your guests serve themselves by displaying the two bowls with berry and ricotta mixture out for people to scoop onto their crostini as they like. Yum!
Berry Crostini
Ingredients
14 ounces blueberries
12 ounces blackberries
2 tablespoons olive oil
1 tablespoon raw honey, melted if solid
Dash of salt
Juice of half a lemon
1 baguette (we used whole-grain baguette from local bread shop), cut into ¾ inch thick slices
Olive oil, for brushing
1 cup ricotta cheese, strained
1 tablespoon raw honey, melted if solid
Salt
Directions
1. Preheat the oven to 425ºF.
2. Add the berries to a baking dish, and drizzle with the olive oil and honey, and a dash of salt.
3. Toss the berry mixture well, then place in baking dish making sure to spread it out as evenly as possible.
4. Let bake for 15 minutes, until the berries look tender, and have released lots of their juices.
5. Squeeze the lemon juice over the berries and gently fold everything together with a rubber spatula.
6. Leave berries in oven with it turned off to keep it warm (but not cooking) while finishing prep for crostini.
7. Take the slices of baguette and place on baking sheet lined with parchment paper, then lightly brush or drizzle each with olive oil.
8. Place the slices in oven for about 10 minutes, to get them nicely toasted.
9. Once done toasting, remove from oven and set aside.
10. Mix together the ricotta, honey and a dash of salt in a small bowl.
11. Spread a generous layer of ricotta on the crostini, then top with a spoon of berries. Top with honey and serve.
xx, The FabFitFun Team