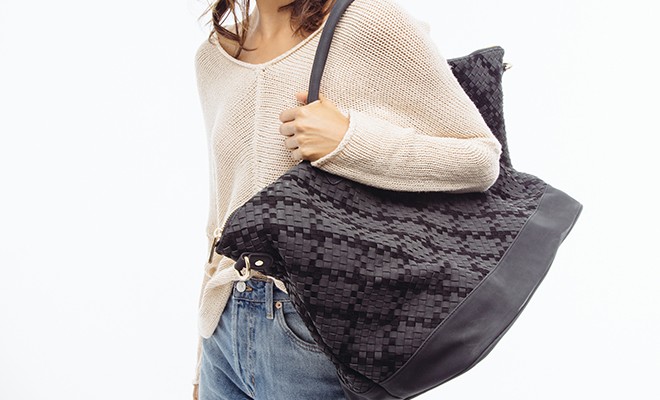 Traveling can take its toll. But with the right tote bag full of must-haves, traveling can become a much more enjoyable experience!
We put together a list of essentials that we always pack in our travel bags — and you should, too, because these items will likely save you from last-minute emergencies.
The best part? You can get all of these fantastic items through our Winter Add-Ons program and get up to 60% off retail when you sign up today.
Deux Lux Delaney Weekender $79
First off, you need a functional carry-all to pack your things in when traveling. This bag is the perfect candidate because it has several pockets to keep your essentials organized and a detachable shoulder strap for convenient traveling.
---
The Created Co Coffee First Plastic Tumbler $19
Forgo the disposable cup and save money at the airport or on the train with this reusable tumbler. Fill it with hot or cold drinks so you can stay caffeinated through those long hours.
---
Tee Ink One Size Beverly Thrills Sweatshirt in Black $59.95
Comfort is key when traveling — and this sweatshirt is just what you need. It's stylish and incredibly soft so it'll make any red eye comfortable. This sweatshirt makes for a great pajama top, too!
---
Butter London Blushclutch in Simply Sweet $39
Quickly touch up your makeup with this handy clutch. It's already infused with primer so there's no prepping needed — just swipe on and go! It includes three warm shades, which you can use for blush and even to touch up your eyeshadow look.
---
Della 13″ Symmetry Laptop Case $48
It's an absolute must to keep your tech protected when you're en route to any destination, especially during business trips. This laptop case has thin padding, which will protect your MacBook from outside elements.
---
CC Sky Infinity Pendant $150
In some cases, you have to head straight to a client meeting right after you step off the plane or metro. Easily dress up your in-flight ensemble with this simple necklace to make it more chic.
---
Donni Charm Touch Double Scarf in Taupe & Charcoal Grey $189
A scarf is definitely an essential for any flight. It can act as a blanket for those chilly flights and stylishly bundle you up for when you step off the plane. Plus, it's two-toned so you can flip it to match different outfits in your luggage.
---
Sweat Active Vegan Leather Baseball Cap in Olive $69
Let's be honest, we don't have the best hair days when traveling. Throw on a cute baseball cap like this one to cover up your stressed tresses, or keep it in your bag to throw on right after you land.
---
Recover Mint Marble Speaker $110
A speaker may not be the obvious travel choice, but it's a practical one. How many times have you been to a hotel where there isn't an available speaker? Bring this one along so you can take any last-minute phone calls right in the comfort of your hotel room.
---
Butter London Buzzed Plush Rush Lipstick $22
Keep your lips in check with this gorgeous shade. It'll instantly dress up your in-flight look and give you the confidence to rock any client meeting!
xx, The FabFitFun Team