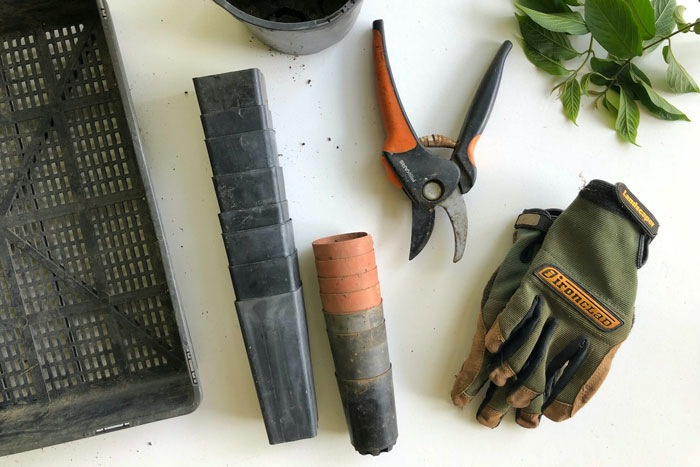 Feature Image by Eco Warrior Princess
Maybe you're a gardening pro who is naturally gifted with a green thumb, but for the newbies, starting an at-home garden can be daunting. You need the right tools and supplies, knowledge on the best soil and seeds for the time of year and region, and an understanding of the best caretaking processes.
Whether you're interested in growing herbs and vegetables, potting succulents, or planting colorful flowers, with a little bit of work, it's possible to have your own dreamy green utopia. Just follow these tips to start your personal home garden.
Decide what you want to grow
For example, if you want to grow a vegetable and herb garden, you should first determine what you want to eat. Another important factor is to determine what grows best in your area. Do a little research about your gardening zone to learn important factors like the first and last frost date, estimated rain, and which crops grow well in your area.
Determine the best area to plant your garden
You will want an area that is close to a water source such as a sprinkler or hose. Otherwise, you'll have to carry water buckets long distances. Also, most plants and vegetables on average need six hours of consistent sunlight. Pick an area that is not covered by trees. If you live in a particularly dry or sunny area, then an area with partial shade is just fine.
Buy essential gardening tools
You're not an official gardener until you have the right tools. You need a spading fork or shovel to loosen and dig the soil and a rake to remove rocks, weeds, dirt, and grass. There's both a leaf and a dirt rake to help make the process easier. You'll also need a gardening hoe, scuffle hoe, shears, gloves, and hand tools. Don't worry because there are plenty of gardening tool kits for beginners that have everything you need.
Test your soil
The next important step is to get to know your soil. Just like hair cannot grow without healthy roots, plants can't grow without the proper soil. A simple soil test will help you determine the pH of your soil, which shows whether your soil is acidic, alkaline, or neutral. The proper pH level will ensure that the soil is packed with nutrients and that there is optimal plant growth.
Prepare your soil
Once you know the pH level of your soil, it's time to put your gardening tools to good use. Start by shoveling the soil to loosen it up and break up any big chunks of dirt. Use your rakes to remove leaves and weeds. Fall and spring are optimal times to prepare the soil for a new garden. One gardening hack that will allow you to skip the soil testing and preparation phase is to plant your garden in a raised bed that comes in easy kits that are great for beginners!
Plant your seeds or transplants
Following the depth and spacing instruction for each plant carefully, plant your seeds or transplants. You'll need to do a little research about what grows best through direct seeding versus which plants are better as transplants. Plant seeds about three times deeper than their diameter, and plant potted (or transplanted) plants at the same depth as they are in the pot.
Care for your garden
Starting your own garden will require a lot of attention to detail and hard work. Remember to water, remove weeds, adjust the seeds for proper spacing, and fertilize as needed. As your crops mature, you'll be enjoying the fruits of your labor in no time.
xx, The FabFitFun Team