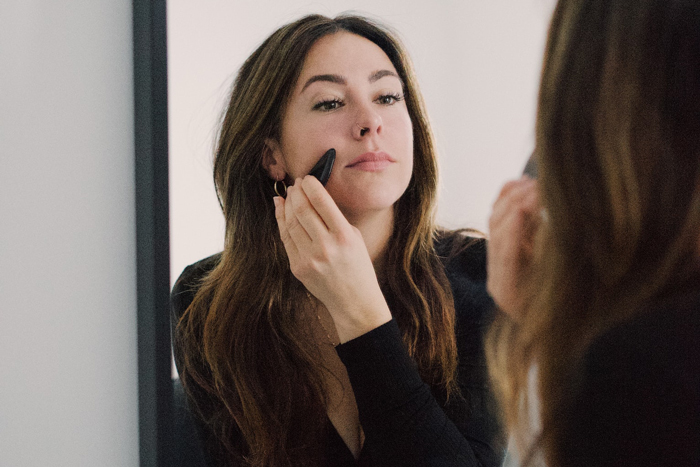 Feature Image by Mathilde Langevin
Whether it's due to lack of sleep, aging, or other environmental factors, everyone deals with dull skin at some point in their skin care journey.
"In your 40s, 50s, and beyond, it's important to take a comprehensive approach to skin aging, not just treating the fine lines and wrinkles you may see in the mirror, but addressing…dullness and dryness that happen as our body starts producing less hyaluronic acid," says Kate Somerville, founder of Kate Somerville.
While aging is inevitable, there are steps you can take to keep your skin looking its brightest, like using hydrating ingredients and making small changes in your everyday routine.
Ahead, experts share their best tips and products to combat dry skin. P.S. You can find the recommended products below in reFills. All you do is pick the product you want during your Customization window, and we'll automatically replenish it for you every season. And by signing up for reFills, you're getting the product at an incredible price (between 55%-75% off the retail value). Learn more about the program at fff.me/refills.
Incorporate hyaluronic acid

"Hyaluronic acid is the ultimate hydrator, pumping skin full of water to plump and smooth so lines and wrinkles appear diminished," shares Somerville. Some of our favorite serums that include this hydrating ingredient is the Grown Alchemist Brightening Serum and Kate Somerville® Kx Active Concentrates Squalane + Hyaluronic Serum. Use the serum daily to help improve the skin's radiance and luminosity.
Drink more water
We know this goes without saying, but we had to share this tip to drive the message home. Lack of hydration is one of the biggest causes of dull skin and while it's important to use hydrating skin care products, you should start with the basic step of drinking more water. After all, you are what you eat — or in this case, drink).
Double-cleanse
Boosting your skin's complexion might be a simple as incorporating double-cleansing into your routine. "Improper cleansing [leaves you with] impurities, dirt, and oil on your skin. That causes dullness and oxidation. Introduce a single and double-cleansing system to remove deep impurities," says Jeremy Muijs, founder and CEO of Grown Alchemist. Before cleansing, use a pre-soaked wipe like the BLAQ Dual Sided Wipes to gently remove any impurities. Then, follow up with a cleanser to wash away the rest of the day. We recommend the dr. brandt® Pores No More Cleanser or the Grown Alchemist Gentle Gel Cleanser.
Do a quick work out
Have you ever heard of the post-workout glow? If you want a more immediate fix to dull skin, squeeze in a quick 15-minute workout to increase your heart rate. Whether you do yoga or a HIIT routine, you'll improve the blood and oxygen circulation throughout your body and your skin — ultimately, leading to glowing skin.
Give your skin the treatment it deserves. You can access reFills in Customization during your Customization window! Click here for more details on when you can access Customization.
xx, The FabFitFun Team
Psst! Have you signed up for FabFitFun yet? Don't miss out on reFills, seasonal boxes filled with the best products in beauty, fashion, fitness, and lifestyle, member-exclusive sales, and more. Use code FLORALS at checkout for 20% off your first box.
To get the most out of your box products, make sure to check out the Insider page.