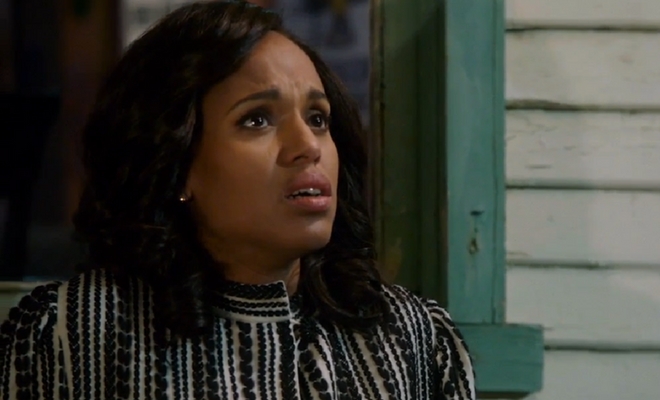 If you thought last week was major, just wait until you find out what happened this week. Sure, the trailers have been showing what Olivia has in mind for her father, but some other seriously twisted things go down that we didn't see coming.
Ahead, you'll find the top five moments of last night's episode (spoiler alert!).
Olivia wants Huck to kill Papa Pope. After finding out that Rowan killed Vargas, Olivia is convinced he's up to something bigger. Huck thinks there's something fishy about the whole thing because Command always protects the Republic — and Vargas was for the Republic.
Huck is on Rowan's side. Well, sort of. Huck does go to kill Rowan, but actually finds that Rowan is being controlled by someone else. Rowan tells Huck that Olivia is in danger and that someone very close to them could hurt Olivia at any time. There's a traitor in their midst, and Huck is going to do everything he can to find that person.
Huck's new relationship may not be the real deal. After meeting with an old enemy (remember Becky/Alice?) Huck finds out that he's a major sucker for a sob story. He starts to investigate into his current relationship. After seeing a certain familiar blonde sitting next to his girlfriend, Meg, Huck's suspicions are confirmed. He's on the brink of torturing her, but she convinces him she really loves him, and he backs off.
Olivia lets Rowan off the hook. When Huck begins to defend Rowan by saying Rowan has changed and was being blackmailed, Olivia tells Quinn to kill Rowan instead. However, Huck finds video footage of everything that happened to Rowan and Sandra. Olivia decides to let her father live.
Abby betrays the gladiators. Turns out, Abby is in cahoots with the woman who blackmailed Rowan into murdering Vargas. And by cahoots we mean she had Huck's girlfriend shoot Jennifer Fields. And then shoots Huck. Repeatedly.
xx, The FabFitFun Team