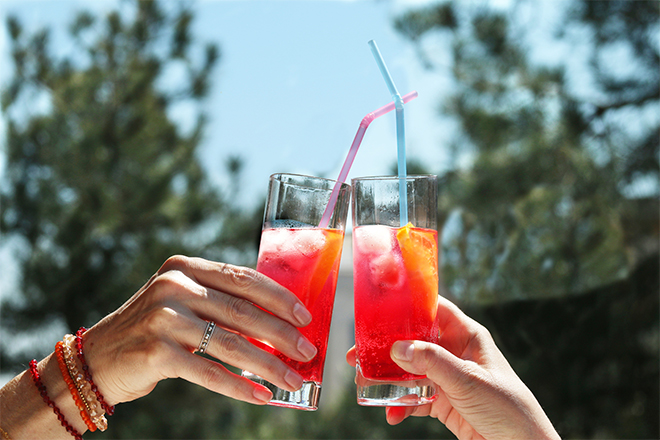 We've all experienced happy hours that lasted way longer than they should. You get to chatting, and next thing you know it's midnight and you've had one too many half priced (but now regular priced) drinks. Did you ever wonder why there wasn't a gadget that could tell you when to stop indulging in cocktails?
Well, our problem is solved, thanks to a few west coast scientists, who invented a wearable electronic tattoo-like patch. According to NBC San Diego, "the flexible wearable sensor, crafted by nano engineers at UC San Diego, consists of two parts: a temporary tattoo and a portable flexible electronic circuit board, connected to the tattoo with a magnet."
In a nutshell, the electronic tattoo device will electrochemically detect your body's alcohol level, which is then sent to a laptop or phone via Bluetooth. "When you're out at a party or at a bar, this sensor could send alerts to your phone to let you know how much you've been drinking," noted Jayoung Kim, a science and engineering Ph.D. student.
We like to think of it as a wearable breathalyzer that will help you drink more responsibly and also prevent others from drinking and driving. While it may not the hippest tattoo we've ever seen, we can only imagine that it'll get more stylish in time.
And just think, next time you're out and about, you can use it as your very own last call reminder. Pretty nifty, right?
xx, the FabFitFun Team