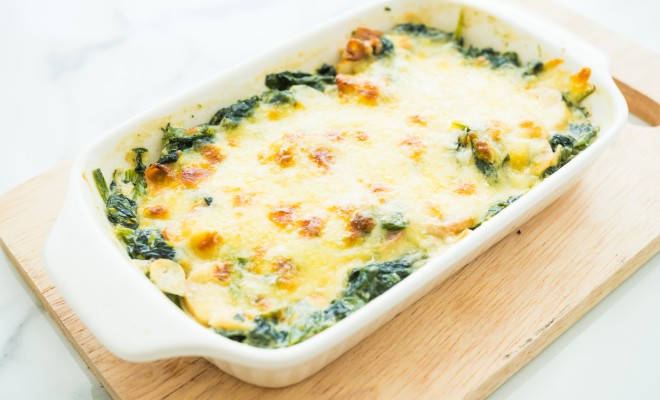 Think every lasagna just takes way too much time to cook? Well, don't be deceived by all those cheesy layers because this lasagna recipe is so easy to make that it'll quickly become a weekly staple in your household.
Spinach is one of those leafy greens we just can't get enough of, and instead of adding a load to our green smoothies, we're tossing the greens into our favorite Italian dishes. We also used whole wheat lasagna noodles as a healthier alternative, and we couldn't taste the difference. Bon appetit!
Vegetarian Spinach Lasagna
Ingredients
15 ounces organic whole wheat lasagna noodles, cooked
1 pint whole milk ricotta cheese
1 jar (9 ounces) organic marinara sauce
3 cups shredded mozzarella cheese, divided
2 packages fresh spinach
4 cloves garlic, minced
1 tablespoon extra virgin olive oil
Salt and pepper to taste
Freshly grated parmesan cheese
Directions
1. Preheat oven to 350 F.
2. In a medium saucepan, sautée the spinach with olive oil, garlic, and salt and pepper to taste until greens are wilted. Set aside.
3. In a 12 by 10 inch baking pan, create a base layer with cooked lasagna noodles. Then spread a thin layer of marinara over noodles. After, use a spoon to spread an even layer of ricotta cheese on top of marinara, sprinkle 1 cup of mozzarella, and finish with a thin layer of cooked spinach. Repeat this layering process three times.
4. Then evenly coat the top layer with marinara sauce and grated parmesan cheese.
5. Bake for 30 minutes and serve warm.
xx, The FabFitFun Team