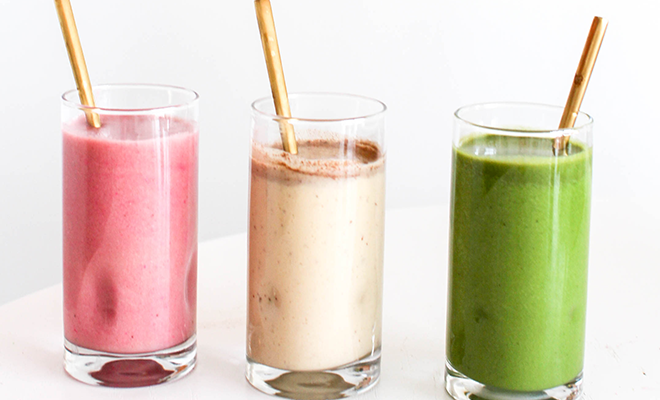 Rebekah Lowin
OK, so you might not be a morning person just yet. And in the dead of winter, it's impossible to see how you ever could be. But we think there's just one thing you need to feel more chipper in the A.M.: the perfect smoothie.
Think about it…smoothies are customizable, delicious, and (perhaps most importantly) portable. And as January draws to a close, sipping on a smoothie is the ultimate way to regain that summery, garden-fresh feeling back in your life.
So, what are you waiting for? Grab one of our three favorite recipes below — and start looking forward to waking up.

Cold Brew Almond Smoothie
Ingredients
1/4 cup low-fat milk
3/4 cup cold brew coffee
1 banana, cut into 1-inch pieces
1/2 cup almond butter
1/3 cup ice
1 teaspoon cinnamon
1 teaspoon nutmeg
1/2 teaspoon honey
Directions
1. In a blender, combine all ingredients
2. Garnish with extra cinnamon if desired
---

Green Breakfast Smoothie
Ingredients
1 cup packed spinach leaves
1/2 cup coarsely chopped kale, ribs removed
1 small stalk celery
1/4 cup fresh parsley
1 frozen banana, cut into 1-inch pieces
2 teaspoons fresh ginger, peeled and grated
Directions
1. In a blender, combine all ingredients
---

Strawberry Banana Smoothie
Ingredients
1 cup frozen strawberries
1/2 cup frozen raspberries
1 banana, cut into 1-inch pieces
1/2 cup nonfat vanilla yogurt
1/2 cup coconut milk
Directions
1. In a blender, combine all ingredients
xx, The FabFitFun Team