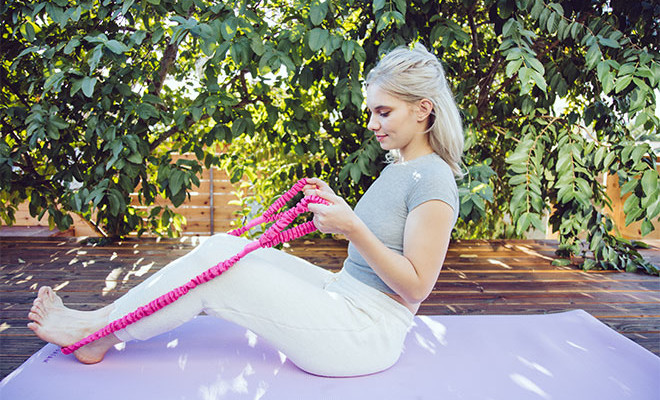 Ladies, it's time to get real. A good workout extends way beyond the weight room, and it's actually what you eat before and after a sweat sesh that makes for an effective fitness routine.
Lucky for you, we chatted with celeb fitness trainer Chase Weber (who's trained everyone from Nia Long to Carly Chaikin) to get the lowdown on how to have an amazing workout sesh with the proper diet. Get ready to be the fittest you've ever been!
Pre-Workout
Make sure to properly nourish yourself before a workout. Weber notes that consuming the snacks below "will help keep your energy high and ensure that you have a strong finish every time you work out."
Banana to increase your energy level, prevent cramps, and aid in muscle function
Packet of honey to boost your energy levels, and help sustain them during workout
Power bar (like Caveman Bar) to help increase energy levels without feeling too full and to provide enough nutrition for endurance workouts
Workouts to Try With Resistance Band (by Weber)
For beginners, take a resistance band and place both feet in. Position the band just above your knee. For a more advanced workout, take two resistance bands. Place one band around the ankles and one band just above your knee.
Miniband Workout: Stand with your feet shoulder width apart in a half squat position and engage your core. Keep your position and rotate your right knee outward 15 times, then repeat the same movement on the left side 15 times. When both sides are done, press both knees outward at the same time for 15 times. Repeat three times.
Lateral Walks: Stand with your feet shoulder width apart in a half squat position. Walk laterally but maintain your shoulder width stance. Take 10 steps to the left and then 10 steps to the right. Repeat three times.
Squat In, Squat Out: Stand with your feet a little wider than shoulder width apart and perform a squat. Stand up, then bring your feet together to perform a more narrow squat. Do 20 squats (note: an in squat, and an out squat equals 1 full squat). Repeat this three times.
Post Workout
After a killer workout sesh, it's time to replenish your body with the right foods. Weber recommends the below snacks:
Chicken jerky (like Caveman Chicken Jerky) to promote the growth and development of lean muscle
Cottage cheese to replenish your body's calcium
Grapefruit juice to keep your energy levels up, boost your immune system, and replenish the electrolytes your body loses from sweating
Granola bar to keep energy level up
xx, The FabFitFun Team