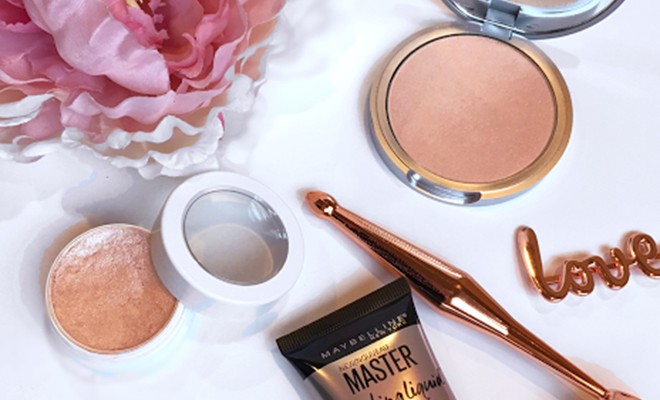 If you haven't heard the word "strobing" yet…you might be living under a rock! Just teasing…but seriously 2016 was the year of strobing, or extreme highlighting — and it turns out that trend isn't going anywhere for the New Year.
Today we decided to finally post about strobing because we think winter is the perfect time to try it out. Why? Well to us, summer time is all about bronzy warm looks, and winter just lends itself to shimmery makeup better. So let's jump in and learn how to fake that glow, yo!
What is strobing? Strobing is the opposite of contouring, where instead of creating shadows on the recesses of the face to create dimension, we use highlights on the high points of the face to create dimension. Check out the different placement in the photo above.
Do we still contour when using this technique? No, traditionally this technique replaces contouring, otherwise the two together can look too extreme for most women.
What are the benefits of strobing? It's quicker to apply and blend than contouring and brightens the face and eyes to give a youthful dewy finish.
Where do we apply our strobe? On the round and high points of the face where natural light reflection would occur:
Tops of cheekbones — you can be the most liberal here and apply a decent amount
Down bridge of nose — avoid the nose if you have a wider bridge because this can make the nose look larger and wider, less is more on the nose
Cupids bow above the lip — gives a pouty and full look to the lip
Above and below brow bones — gives an instant lift to the eyebrow
Recommended products:
Do you love this trend too, or do you think it should stay in 2016? Let me know in the comments below! xo
For the latest and greatest info on all things beauty, be sure to check out TheBeautySnoop.com!
---
This story was written by a fab member of our Ambassador Network.