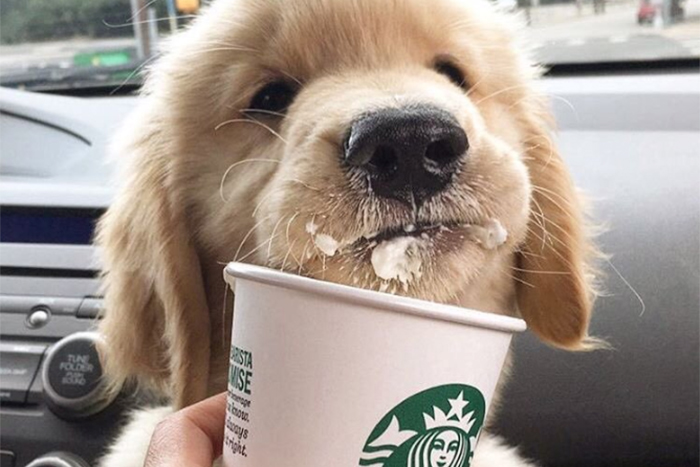 Feature image by @archangelicpups
If there are two things we love, it's cute dogs and Starbucks. So, obviously, we had to find the best photos of dogs drinking Puppuccinos — a secret menu item at Starbucks!
The puppy Frappuccino is basically a cup of whipped cream with no coffee, tea, or caffeine of any kind. It's totally safe for your furry BFF to snack on every once in a while. The best part? It's free! Just take your pup through any Starbucks drive-thru and order the special treat.
Check out our favorites below.
Favorite part of my job is feeding max his treat everyday. pic.twitter.com/JZyjTax5CC

— JodieBrooke (@JodieBrooke2) January 28, 2019
---
— EJ Cantu (@can2_ej) January 29, 2019
---
Just gonna leave this here pic.twitter.com/e1RBkjHRIp

— jo (@j0318_) January 29, 2019
---
Opal loves her Starbucks, too! pic.twitter.com/8e3fKQ91EE

— kee (@im_susieQ) January 29, 2019
---
hey @starbucks, winkie wanted me to tell y'all thanks for the puppuccino this morning. he gave it 10/10 stars. thanks for making his day. pic.twitter.com/v7Smwgs84p

— Aaron Wiseman (@awfficial) September 22, 2018
---
Bear is my favorite customer pic.twitter.com/8QzgaO4ovo

— betty spaghetty (@kass_erole) January 29, 2019
---
I strive to be as happy as E Lou was when she tasted her first puppuccino today ☕️ pic.twitter.com/1LyJjhy30t

— Aubri (@AubriCox) January 28, 2019
---
My pup when he got his first puppuccino pic.twitter.com/PlM0k3lWPH

— Tony???? (@tvny_19) January 29, 2019
---
puppuccino is a real thing y'all treat yo pup pic.twitter.com/uCqSlhcFHs

— doggies (@archangelicpups) March 19, 2018
---
Nina's first puppuccino♥️????@Starbucks pic.twitter.com/sonba2R6lS

— A (@AngelenaTrejo) January 29, 2019
---
Louis loves a puppuccino pic.twitter.com/IfKoBzeeCS

— Dom (@d0mia) January 29, 2019
---
Living his best life enjoying a Starbucks Puppuccino! #puppylove #allaboutCooper ???????? pic.twitter.com/bKRUST7BQH

— MJ Brown Davis (@MJBrownDavis) January 27, 2019
Searching for your next Starbucks obsession? If you like cookie butter, you'll love Starbucks' new drink.
xx, The FabFitFun Team