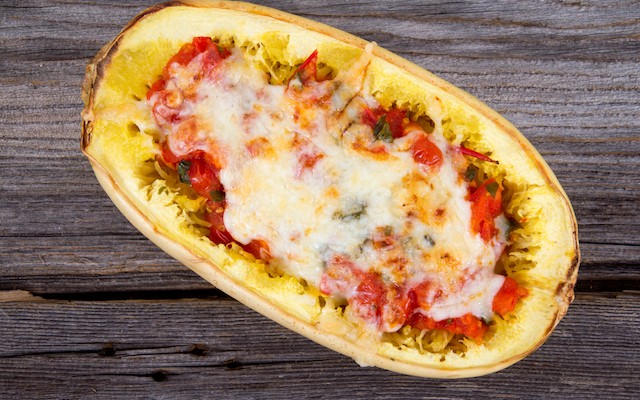 The time to get healthy before the holidays is here! In preparation of upcoming feasts and treats, the fit gal in us is making healthy eating a top priority. (Spoiler alert: Eating healthy is not as hard as you think!) We love making our dishes full of flavor and nutrients, so that we don't even miss the junk.
Today's recipe is one of our go-to's. Spaghetti squash has been popping up everywhere due to it's delicious insides that remind us of eating actual spaghetti. The strings in the squash are tender, but have a nice crunch to give amazing texture to any dish you make. The hardest part about this recipe? Cutting the squash in half! We recommend softening the squash in the microwave (or oven) until it's easier to slice.
Spaghetti Squash
Ingredients
1 spaghetti squash, microwaved for 4 minutes to soften, then halved, cored and seeded
4 tablespoons extra virgin olive oil, divided
2 cups marinara sauce, divided
1 pound fresh spinach
1 ounce mozzarella cheese, shredded
3 ounces parmesan, grated
salt and pepper to taste
Directions
1. Preheat the oven to 375 degrees F.
2. For each half of the spaghetti spaghetti squash, brush 2 tablespoons olive oil and add liberal amounts of salt and pepper.
3. Place the marinated spaghetti squash face down on a baking sheet, and bake in the oven for 40-45 minutes.
4. In a saute pan, cook the spinach with some oil and salt and pepper until wilted-about 3 minutes.
5. Once done, take a fork and start to pull apart the inside of the squash to reveal the noodle-like strings.
6. Add spinach, and one cup of marinara sauce to each half of the squash.
7. Top the squash with marinara and spinach with equal amounts of the parmesan cheese and mozzarella, and bake for 15 minutes on 375 degrees F.
xx, The FabFitFun Team