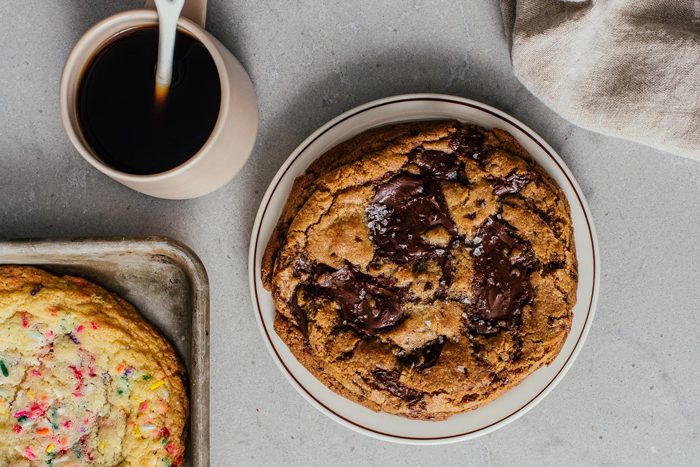 Feature Image by iamafoodblog.com
If you're craving dessert but only need enough just for you, we've got a solution: single-serving desserts. From cobbler to cookies, we rounded up recipes that are easy to bake and make, and the perfect portion — just enough to satisfy your sweet tooth.
Without further ado, here are some recipes you can whip up tonight.
Grab some mini marshmallows, chocolate chips, and a graham cracker, and get ready to recreate this iconic treat in a mug. Then you can pop in the microwave or bake in the oven to get that gooey goodness.
---
Get your blender ready because you're about to make a delicious milkshake! Made from bananas, berries, and almond milk, this is a healthier dessert option you can feel good about.
---
Just because it's breakfast food, doesn't mean it can't be a dessert too. The icing is made of powdered sugar and water, and you'll need cinnamon and flour to make the roll.
---
A whole pie just for you! You'll make the crust from flour and butter and the filling from pecans, eggs, and sugar. This recipe does make 6 servings, but you can always freeze the dough to use later.
---
On those days you just want to sit around and eat cookie dough, reach for this recipe. This is an eggless recipe, but you will need heat-treated flour or even almond flour in addition to butter, brown sugar, and vanilla extract.
---
We know it's hard to eat just one cookie, but these are huge, which makes it easy to be satisfied with one cookie. You can choose different toppings if you want, however, you'll also need the usual cookie ingredients like flour, baking soda, and brown sugar.
---
You will not believe how good this microwave brownie tastes. Make sure to have cocoa powder, sugar, and butter on hand.
---
Bakers choice for this one: oven or microwave! Don't forget to stock your shelves with a granny smith apple, brown sugar, and quick oats.
---
Cake with your coffee is always a good idea, right?  Mix some cinnamon, milk, brown sugar, and flour together and you're just 45 seconds away from a delicious treat.
---
Sweet and full of citrus, this cake tastes like a dream. You'll need a lemon zest and lemon juice plus some apple juice, then just mix and microwave.
xx, The FabFitFun Team