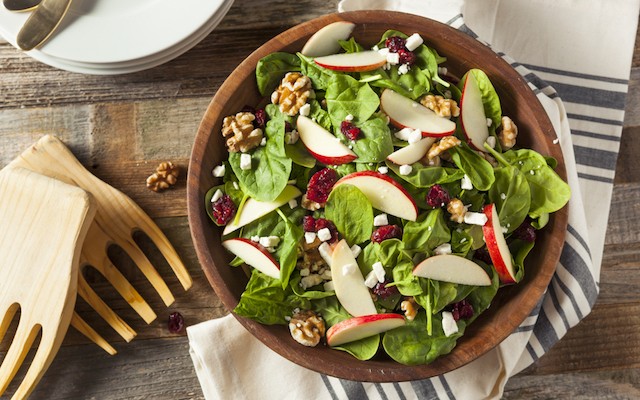 Salads aren't usually what you think of when you start to plan your festive dish list. But just because the holiday season has arrived doesn't mean you can't enjoy a healthy dose of greens! The technique in creating an ultra satisfying salad is simple: make sure to not overdress your greens, and always have some type of healthy fat to balance out the fibrous vegetables. (Indulgent doesn't have to mean bad-for-you!)
Yep, this is a salad that even Santa would love.
Holiday Apple Salad
Ingredients
1 package or bag or fresh spinach
6 ounces toasted walnuts, roughly chopped if preferred
4 ounces goat cheese, crumbled
4 ounces dried cranberries
1/2 medium red apple, thinly sliced
Dressing
1/2 lemon, freshly squeezed
1/2 tablespoons maple syrup, honey, or agave nectar
1 shallot, finely diced
1/2 tablespoon extra virgin olive oil
1/2 tablespoon balsamic vinegar
*Add as much oil and vinegar as you prefer*
1 tablespoon salt
1/2 tablespoon freshly cracked pepper
Directions
1. Add all of the salad ingredients in a large salad bowl, set aside.
2. In a small bowl, whisk in all of the dressing ingredients, until the dressing is thick and emulsified.
3. Right before serving, toss the dressing into the salad bowl and serve immediately.
xx, The FabFitFunTeam